Adventures in Mexico pt III
Wednesday 17th January
The manageress at our hotel was back and, Toby having complained about service, smoke filled rooms and cold food, we were offered a generous discount on the stay and treated to a magnificent breakfast. A partial redemption and tempting to hang around for a while. But a full day beckoned as we were headed for the mountain pass south out of Ciudad Victoria which is possibly one of the most interesting little routes that can be driven along for the botanically minded - I have been twice before, Toby many times. 30 minutes from our hotel saw us climbing in altitude along this most fascinating road. Once the main route out of the city, a fairly recent by-pass means that travellers along here are left pretty well in peace to explore with all kinds of interest only a few minutes from the roadside.
The rock face of the uphill sides are totally packed solid with plants, here are just a few of them:
Below a trailing cactus of some sort: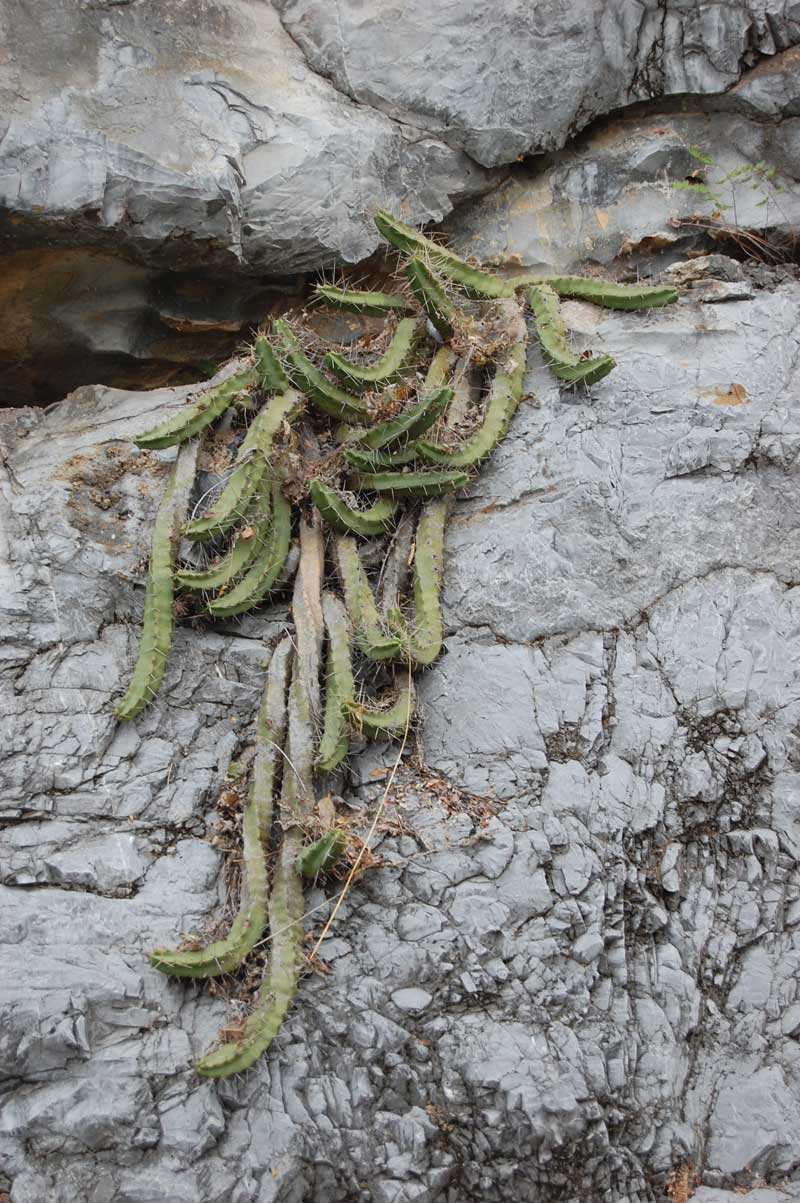 Below left one of the dry crevice dwelling ferns - a cheilanthes, maybe. Right, a tradescantia.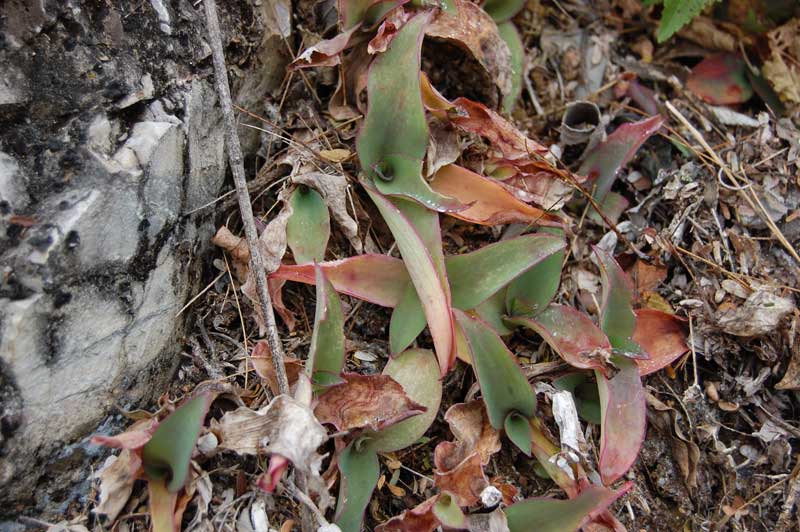 below left a colony of Agave lophantha-type plants, right what looks to be Sedum palmeri.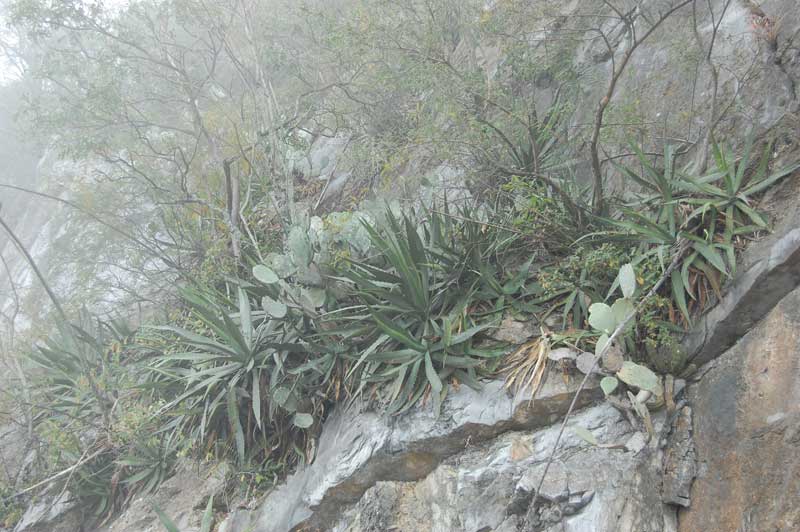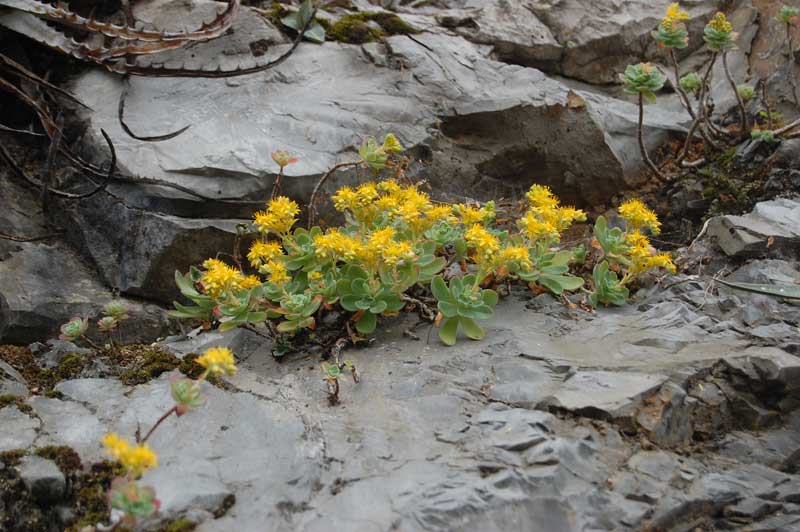 Below: a colourful hechtia - one of many
Below: probably Agave funkiana in it's type location, though the range of forms of these lophantha-type agaves just melt into each other.
Below, a gorgeously lustrous silver hechtia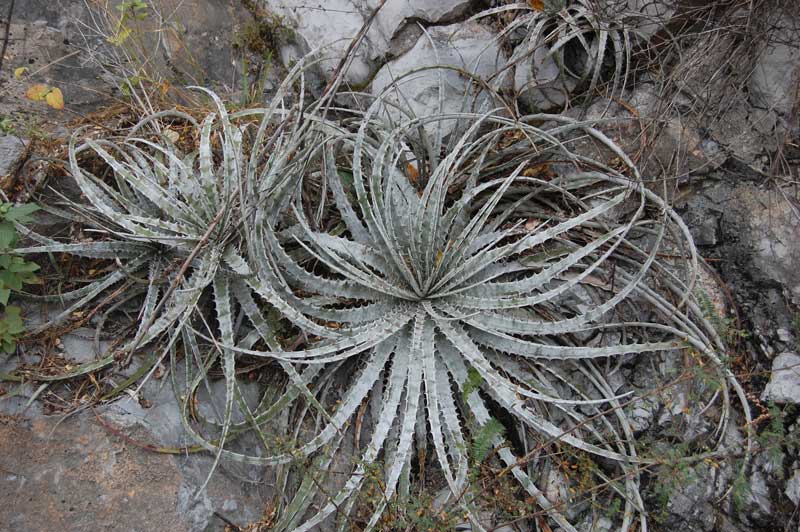 Below - increasing altitude brought more mist, but these two Brahea dulcis insisted on being photographed.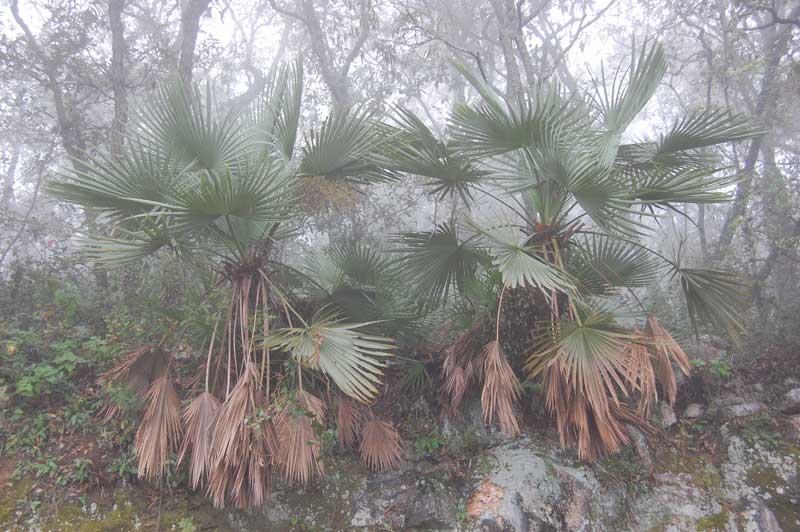 Below left, more Brahea dulcis, this time in an open position. A mix of glaucous blue-grey and green forms. Right - into the woods, and here Dioon edule makes a perhaps unexpected appearance in the moist shade.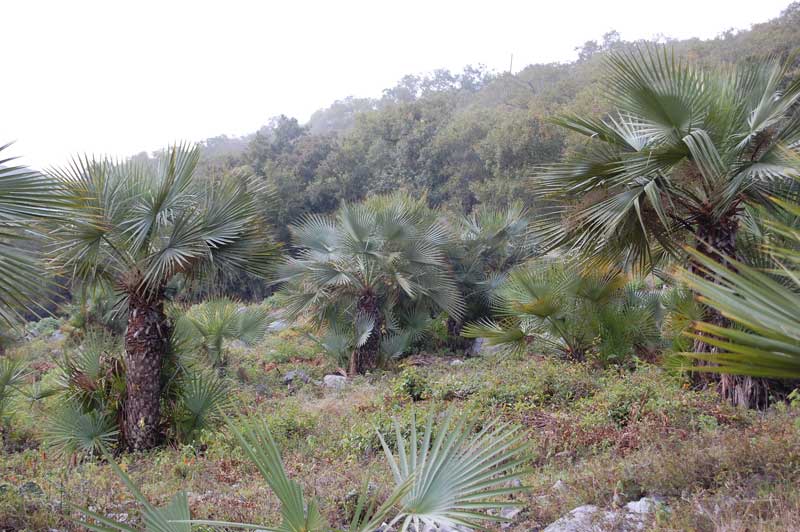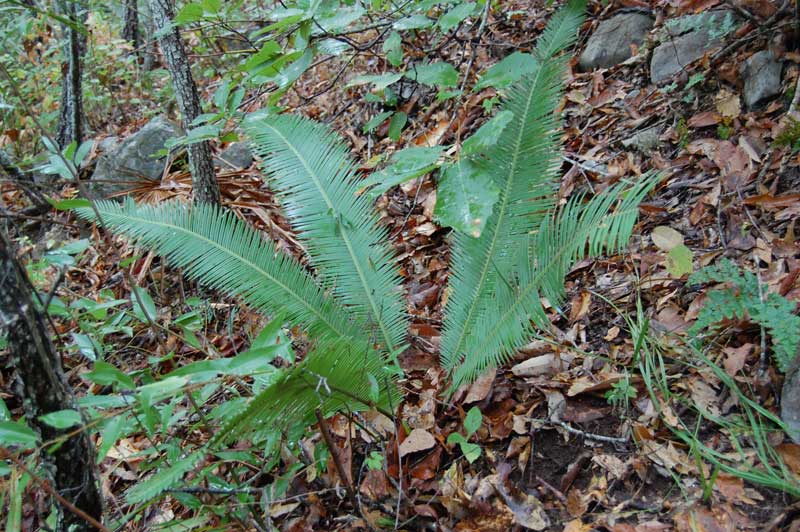 Below - further into the woods and a beautifully presented Chamaedorea radicalis growing in their favoured slot - a crack in moist, shady woodland. They also grow out into almost full sun, but are most plentiful in the shadier areas. I use the term ',moist' with reservation, as I'd guess those cracks will dry out completely in drier weather.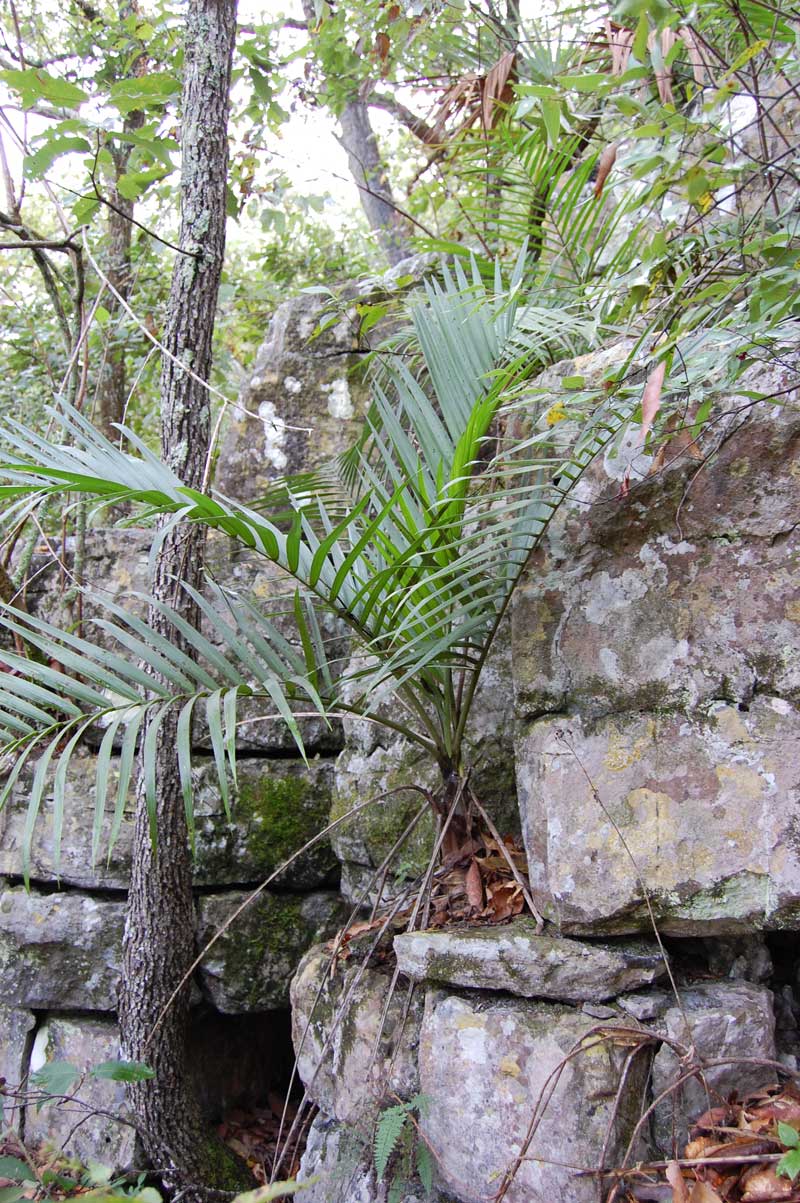 Below - Brahea moorei shining in the woodland on a slightly more open and drier slope. This really is a beautifully elegant palm, holding it's heavily waxy glaucous leaves upright for inspection with long inflorescences drooping over the whole plant. A trunked Brahea dulcis lurks behind.
Below - although small in stature the Brahea moorei here are often very ancient. Here you can clearly see the creeping trunk that must be several decades old.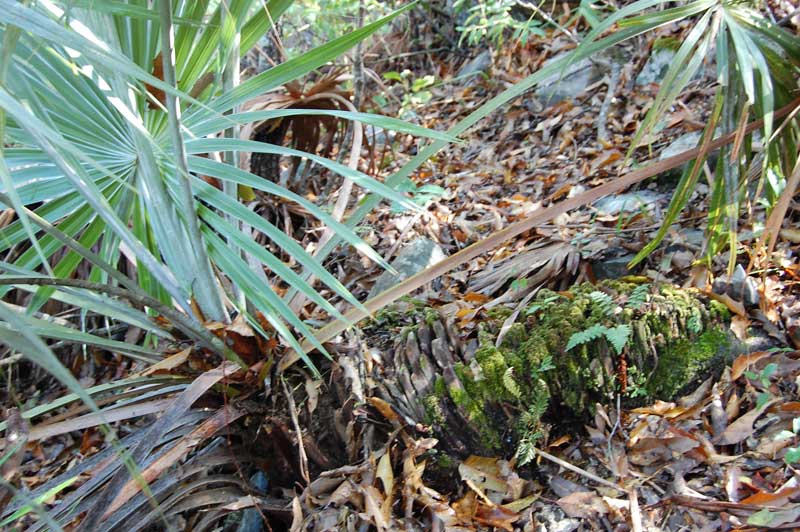 Below: out into the open again and here is another colourful hechtia. They really are magnificent along this stretch of road.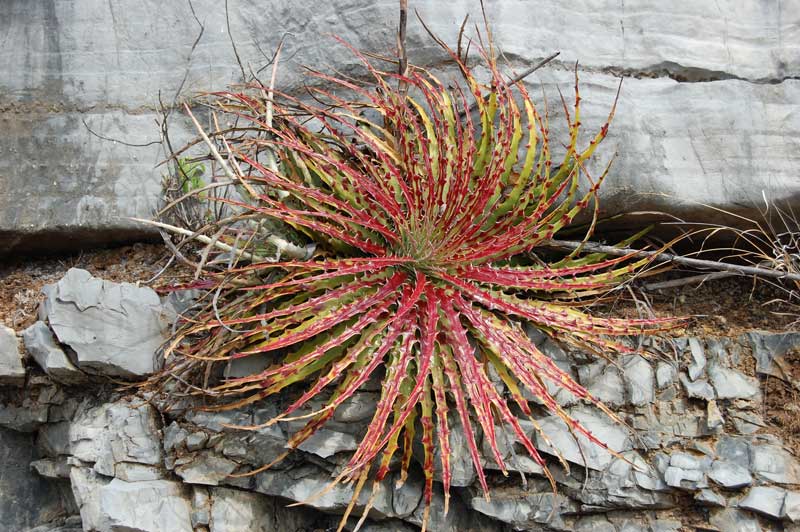 Below: an idea of how the agaves are to be seen along the roadside. This is a huge and almost infinitely variable population of Agave americana ssp protamericana x scabra that is the most commonly seen plant in this part of Mexico. The term 'hybrid swarm' has been coined to good effect.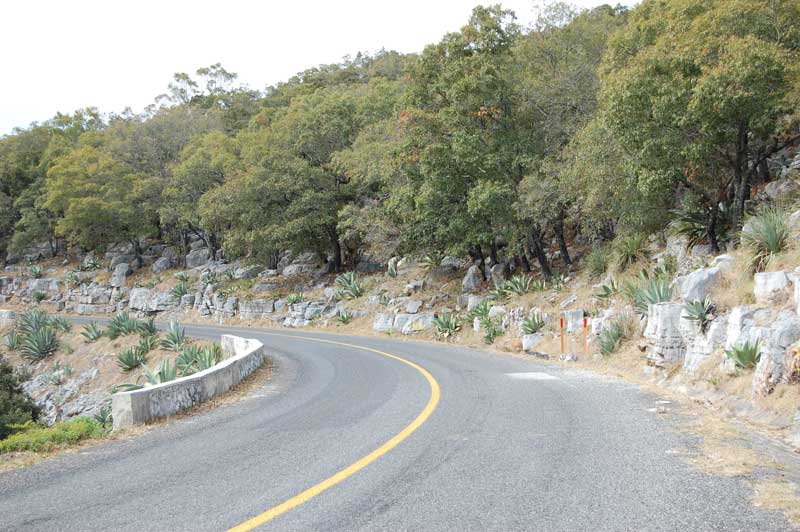 Below - yet another magnificent hechtia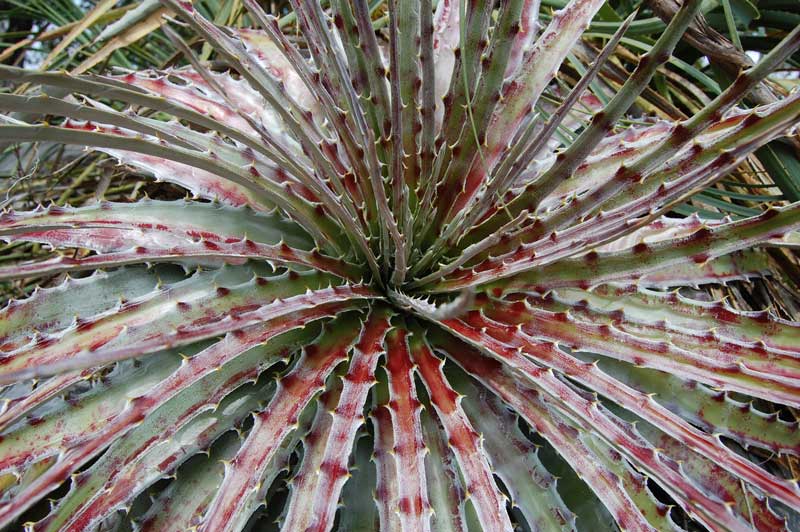 Below: further around the hill and starting to descend we encountered this little glaucous blue colony of Agave lechuguilla/lophantha-type plant.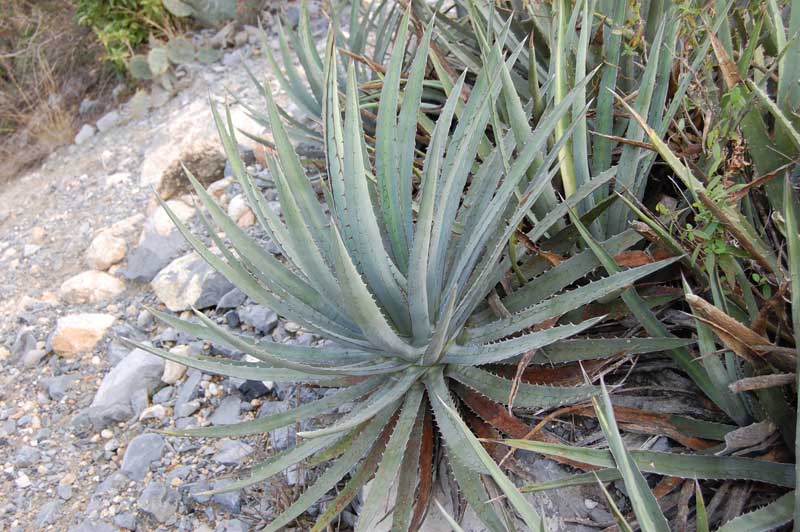 Below: further down the hill towards Jaumave and the populations of Dasylirion miquihuanensis here are a little different to those we saw earlier in the trip. These are smaller in diameter, not so inclined towards forming a trunk and have more pronounced tufts on the ends of the leaves. Very attractive plants indeed.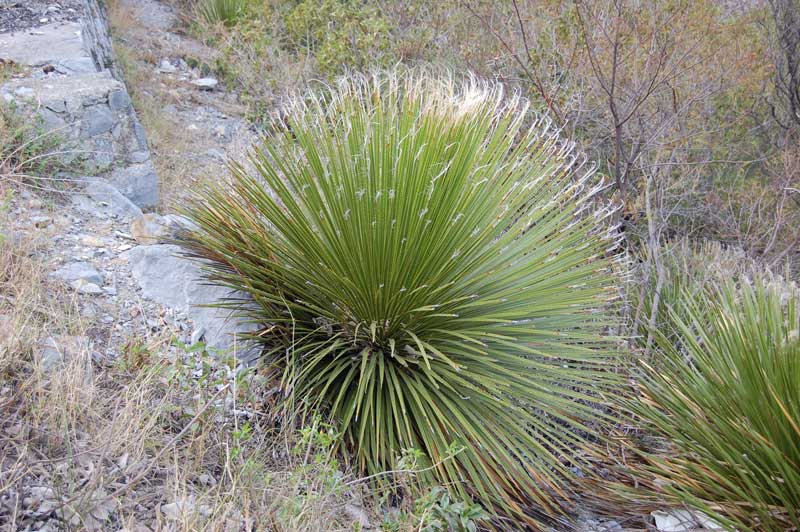 We still had around 3hrs of daylight left, so decided to call into a place visited previously. Just off the Jaumave to Las Palmillas road is a local beauty spot, a waterfall signposted as El Salto (as are all waterfalls in Mexico). We bumped down the dirt track, parked in the car park, walked down the hundred or more steep steps to the actual waterfall then made our way to the mouth of a canyon for a small adventure.
Below: the beautiful cycad, Dioon edule, at the mouth of the canyon.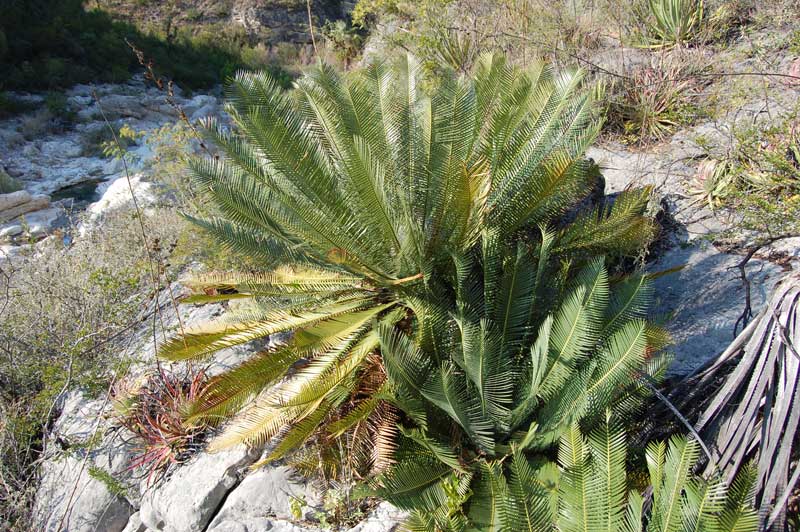 Below: a water-worn canyon, with sides that alternately open up and close in, and a footpath of water worn pebbles from aeons of mountain rain run-off. This palm is common here. Modern revisions suggest they are the variable species, Brahea dulcis, but actually conform more closely to the defunct species Brahea berlandieri.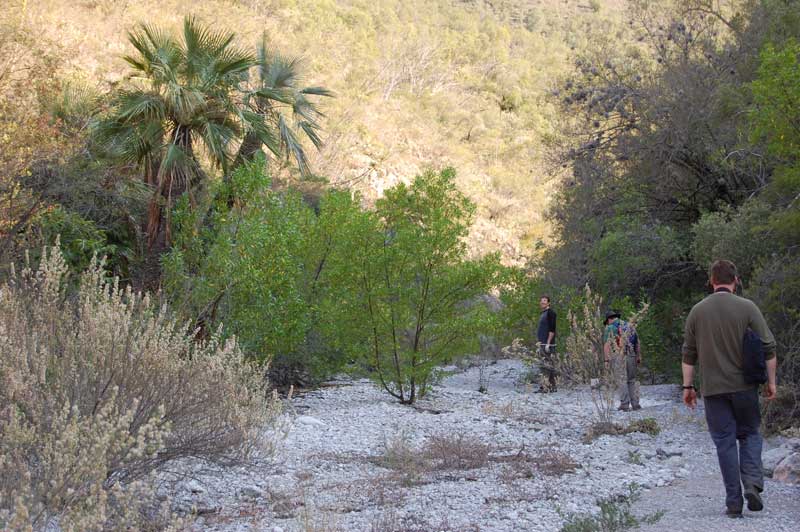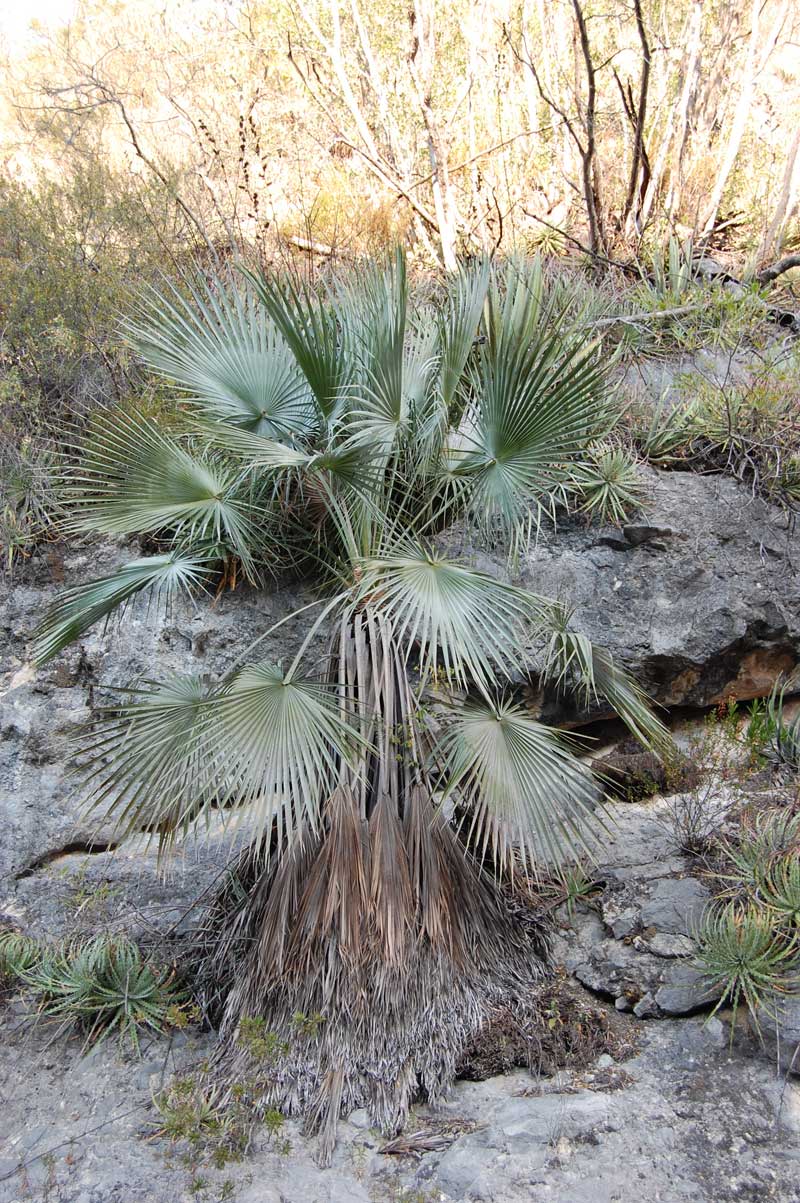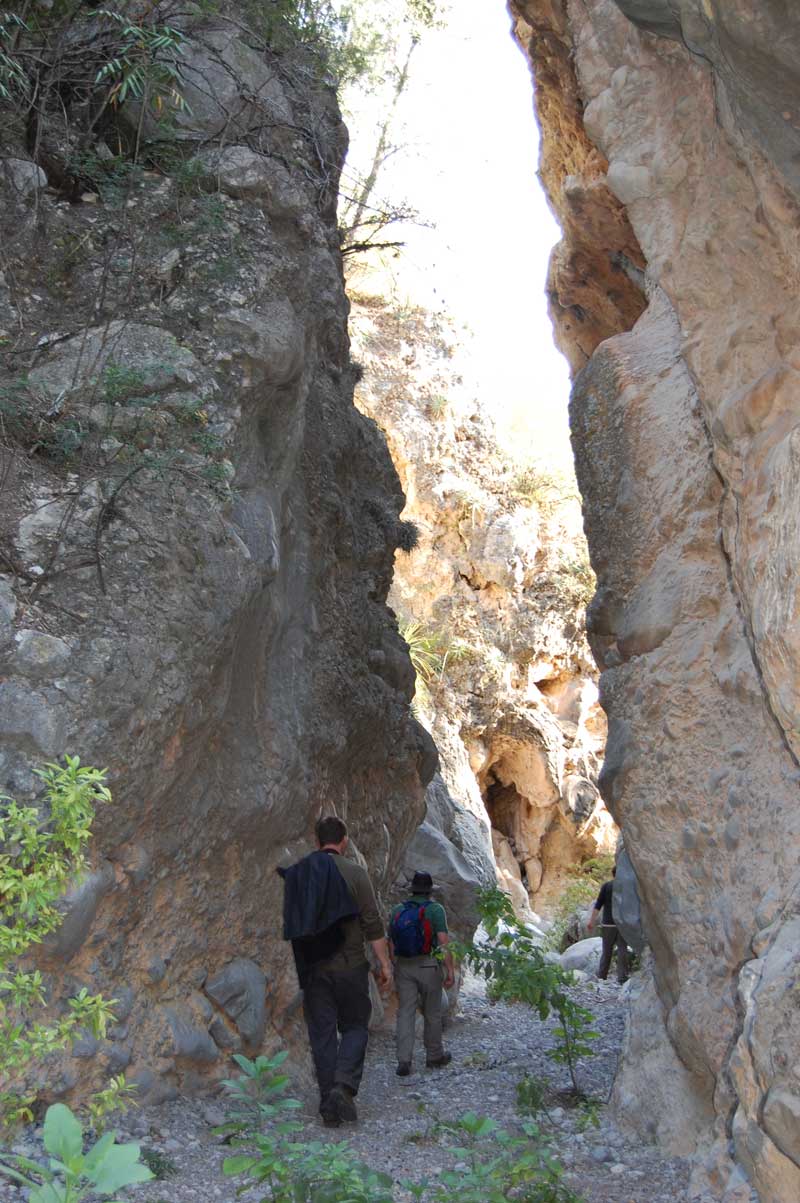 Below: beautiful braheas in the low late afternoon sun.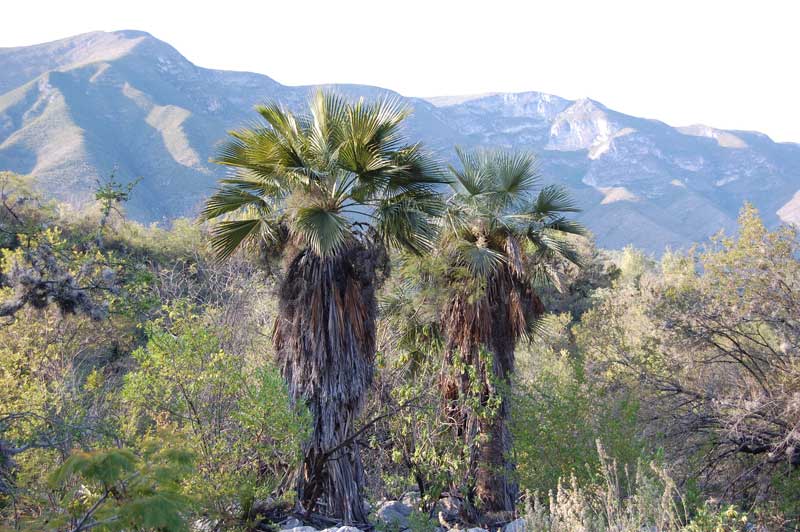 As darkness began to fall we left the tranquillity of El Salto, trekked back the few km to the jeep and headed for Jaumave (How-MAH-bay), just a short distance away. The hotel - Posada de Las Reyes - proved to be the best value for money of the whole trip and our base for the next two nights. 200 pesos a night for a double room - about a tenner - spotlessly clean and freshly prepared, tasty food - starter, main course and 2 beers all round for £4 a head.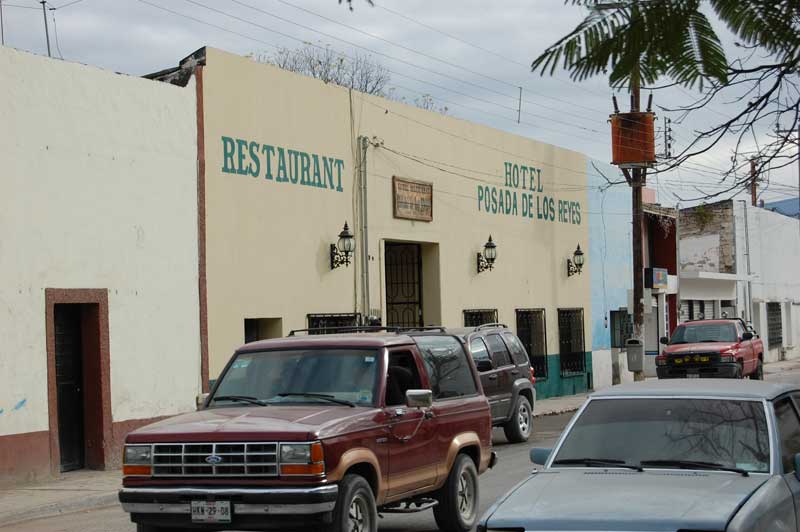 Strolled into town, not much going on, fell into bed exhausted after a lot of walking. We certainly had a lot to look forward to during the next day.
12th 13th 14th 15th 16th 17th 18th 19th 20th 21st 22nd 23rd 24th 25th 26th 27th