Adventures in Mexico pt III
Monday 15th January
Early breakfast at the hotel and hit the road by 8.30am, mainly heading north towards Galeana (Gal-ee-AH-nah). A few stops were scheduled along the way - places Toby and I had seen before plus some new ones. The day started very grey and misty but, encouragingly, seemed to clear as the sun grew warmer. Took a picture of this Yucca filifera - one of a large stand with mist shrouded mountainsides behind.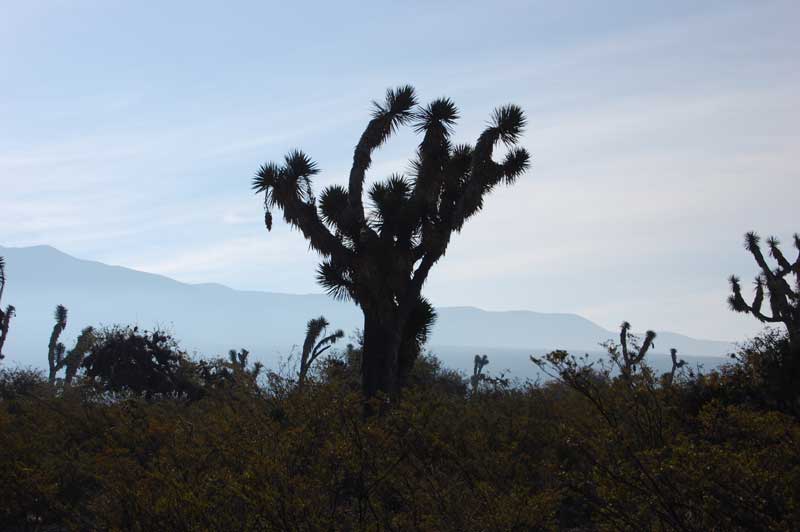 After a few km we turned down a dirt track that seemed to lead into the midst of a large plain and then a hillside, just to see what was there. The answer to that was - lots. We spent a happy couple of hours clambering amongst a vast colony of a large, chunky form of Dasylirion miquihuanensis, interspersed with Yucca carnerosana, proper Agave scabra (with huge teeth - VERY nice) accompanied by the usual Agave lechuguilla, Agave lophantha, Agave striata, Echinocactus platyacanthus, and assorted other cacti.
Below - view from hillside - the green blobs are mainly all dasylirions.... You can see the jeep as a whitish speck centre right in a clear bit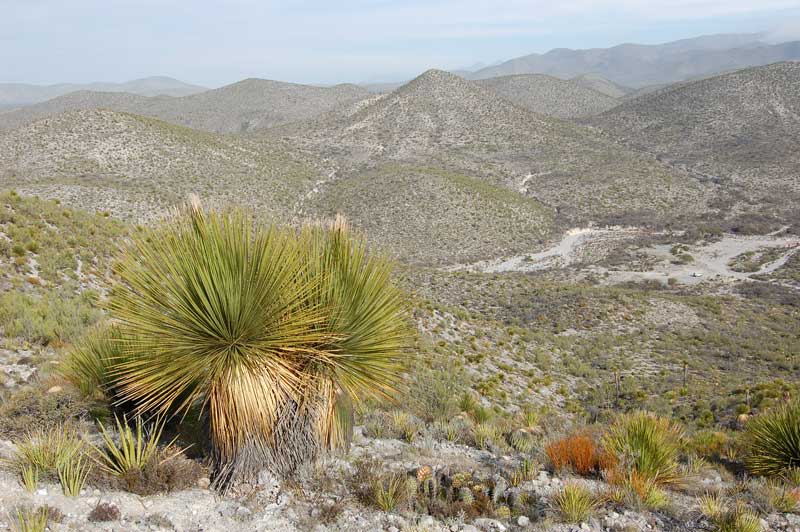 Below - Echinocactus platyacanthus 1.5m tall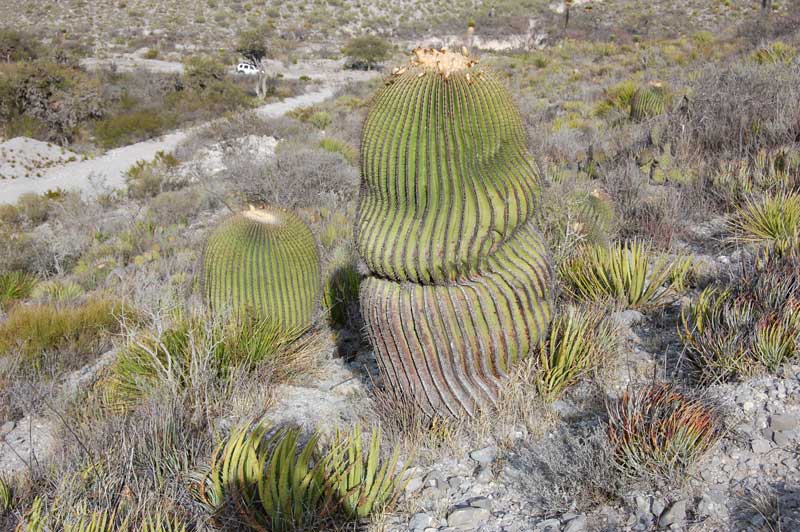 Below: a seriously sexy Dasylirion miquihuanensis. Note to self - why do I persist with those gaiters?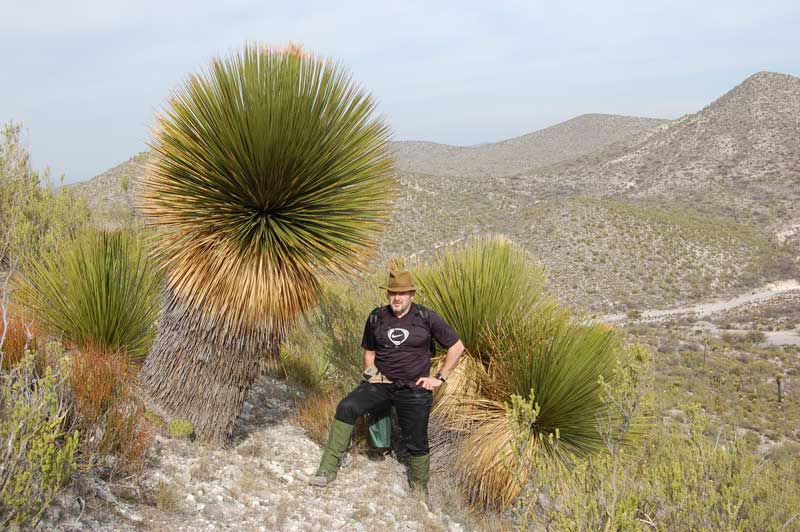 Below: beautifully armed Agave scabra - those leaves were as rough as coarse sandpaper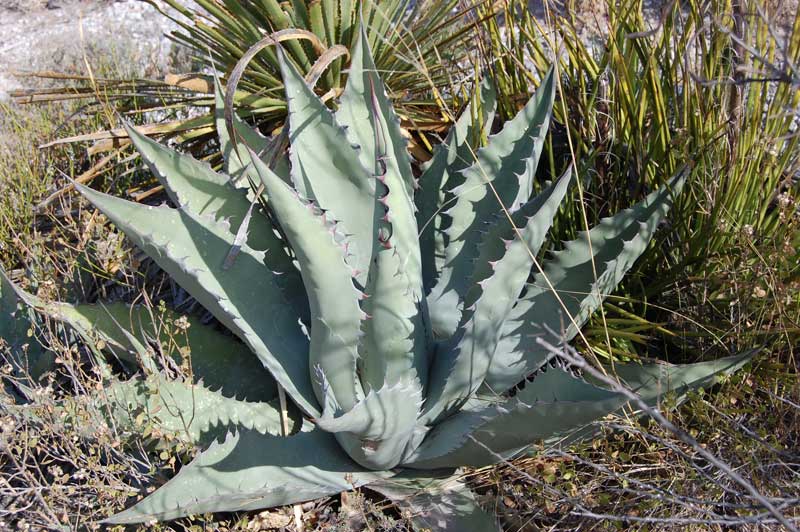 Back to the jeep and on we pressed. Our next stop was to turn off east at Aramberri and to try and find some Brahea hybrids at the end of the paved road. Unfortunately the mist started to close in again and we didn't see them. In fact we could barely see the road ahead. We passed a steep hillside of Brahea decumbens - the one shown below having survived a flash fire and demonstrating the creeping trunk structure nicely.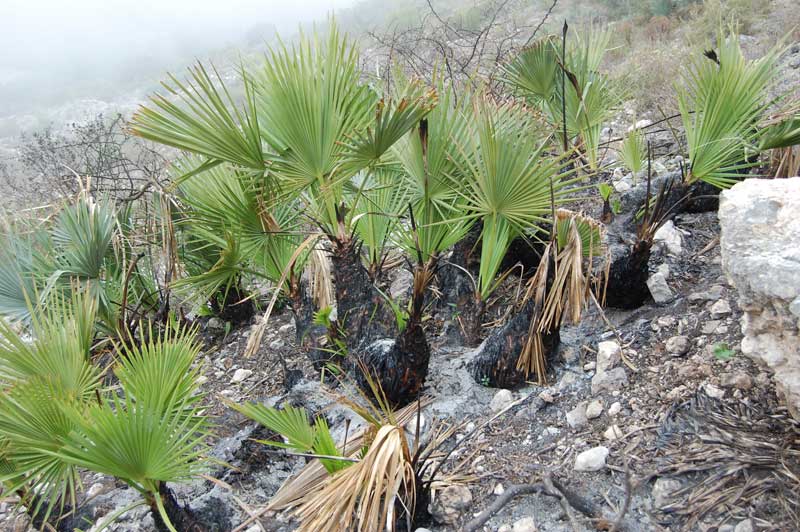 After about an hour we abandoned all hope of finding the palms, and turned back to the main road to Galeana. We stopped at a population of Agave gentryi known from our past trip here and took time to have a closer look at these beauties. I had previously referred to these plants as Agave 'La Escondida'. These showed more variation than I remembered, yet were all identifiable as gentryi. Some were very large - Neil is 6'3" - though most were smaller. Some were nearly toothless, some were viciously armed. Wonderful plants.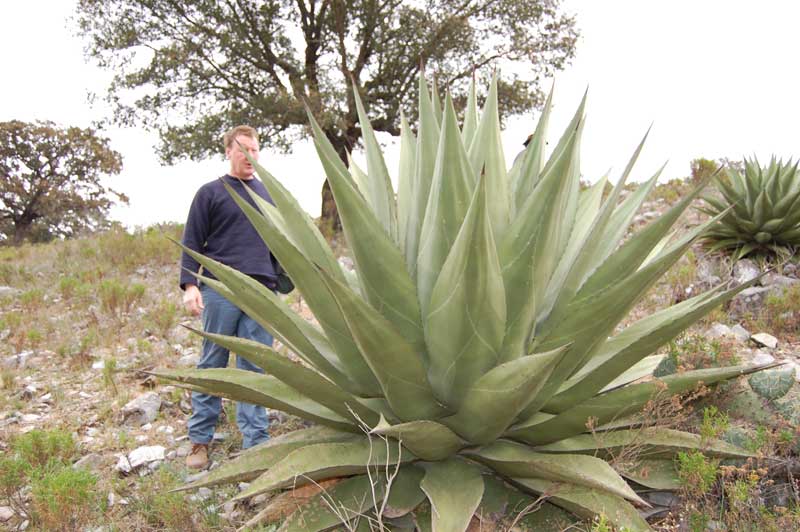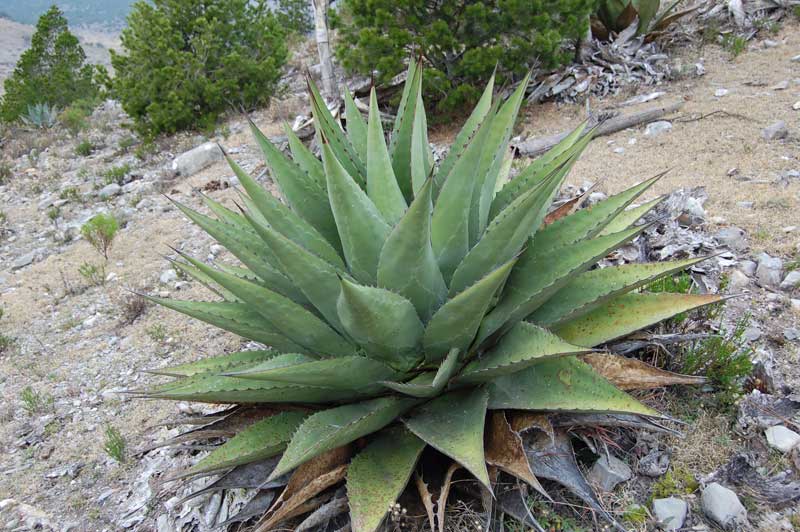 There was also a population of the Agave americana ssp protamericana x scabra plants, also very attractive, and also extremely variable. There were even some plants that appeared to be intergrades with the gentryi .... so confusing...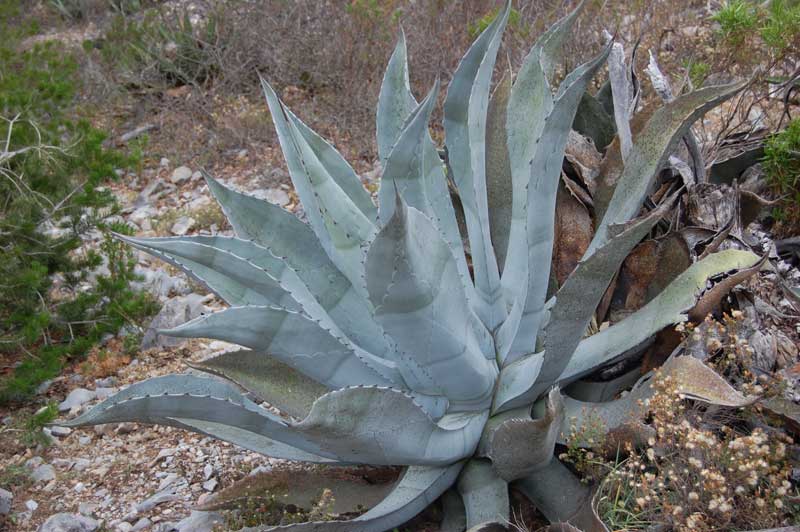 Back to the jeep - but not for long. A few km further long the road there was another population of Agave gentryi growing almost exclusively as forest under-story plants. Narrower, darker leaves compared with those we had just looked at.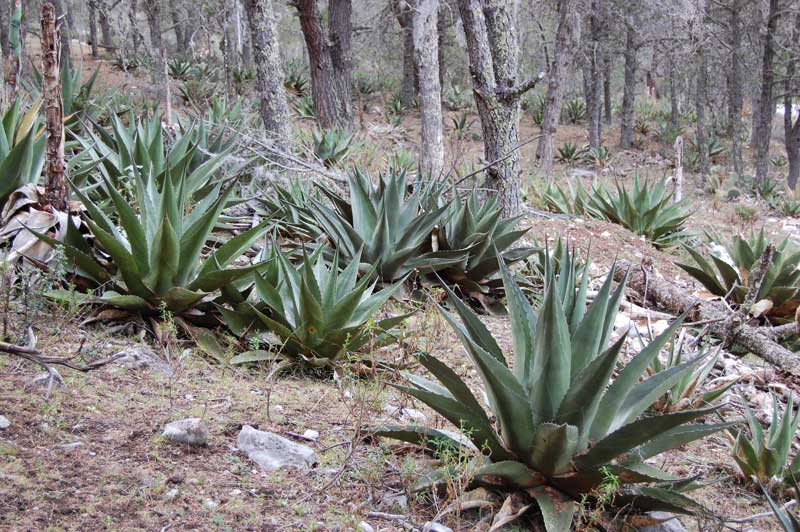 Finally we dragged ourselves away and drove the remaining distance to Galeana in one hit. A larger, more colourful town than Dr Arroyo, we pitched camp at the Hotel Colonial, cheap and clean, with a half-decent restaurant nearby. All overshadowed by the brooding mountain that looked like it was going to fall on us at any second.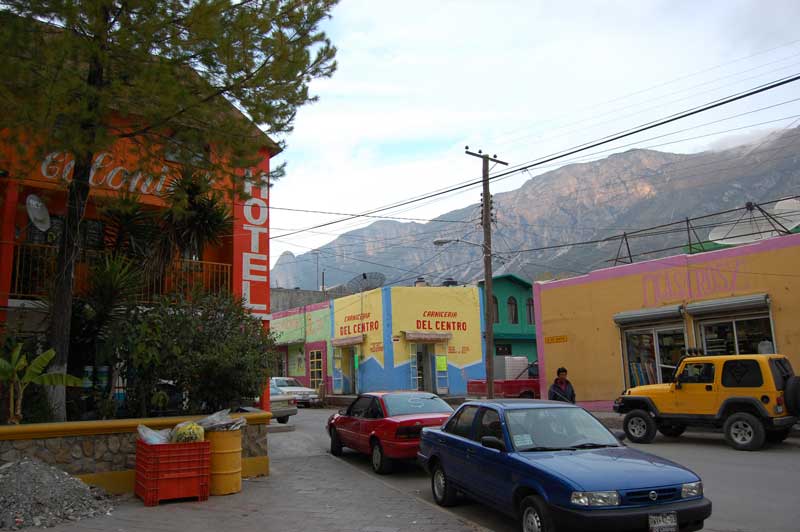 12th 13th 14th 15th 16th 17th 18th 19th 20th 21st 22nd 23rd 24th 25th 26th 27th