Adventures in Mexico pt III
Monday 22nd January
Ok, so we didn't go to Zimapan for the nice hotel or good food (no restaurant = no breakfast! A first for the trip) We went there because Nick Macer and I, on our November 2005 trip, discovered a previously unknown colony of Yucca queretaroensis (I should add it was nothing clever - we simply got lost... which is another story) just a little way outside of town. These plants were accessible from the road, which itself was cut into a vertiginously sloping hillside for access to a mine n the valley bottom.
We found the right road easily enough, though it appeared the mine traffic was much increased as everything was covered in dust. Suddenly Toby noticed a funny noise coming from his corner of the jeep - we had a puncture. Ok, not a problem, we had a spare. And a jack, somewhere. Found the jack, it wasn't big enough to lift up the car. Phil made a rock heap and jacked up the jeep from that. Tyre changed, we then had to decide - risk carrying on with no spare or go back to town and get new tyre. I couldn't remember how far along the road the yuccas were, so that didn't help. We decided to throw caution aside and carry on. About 200m further on we found the yuccas....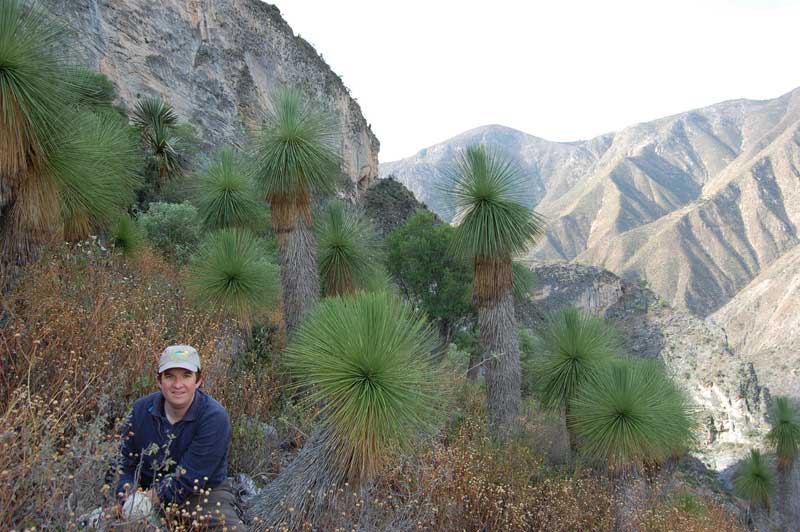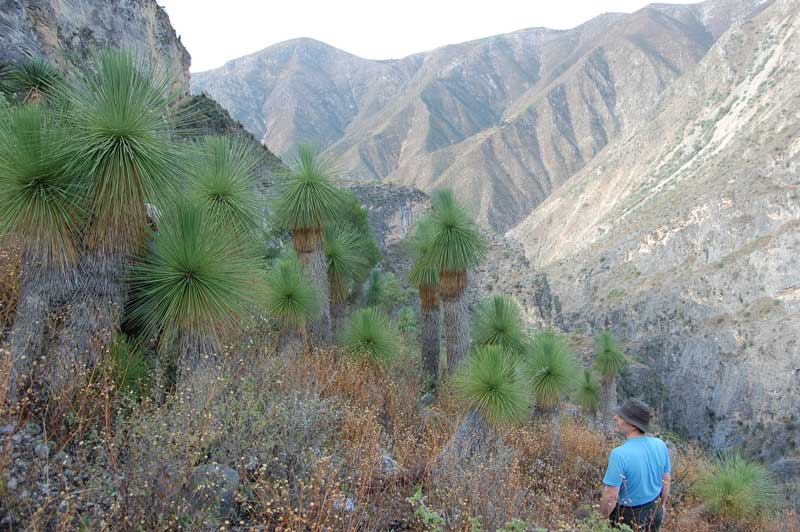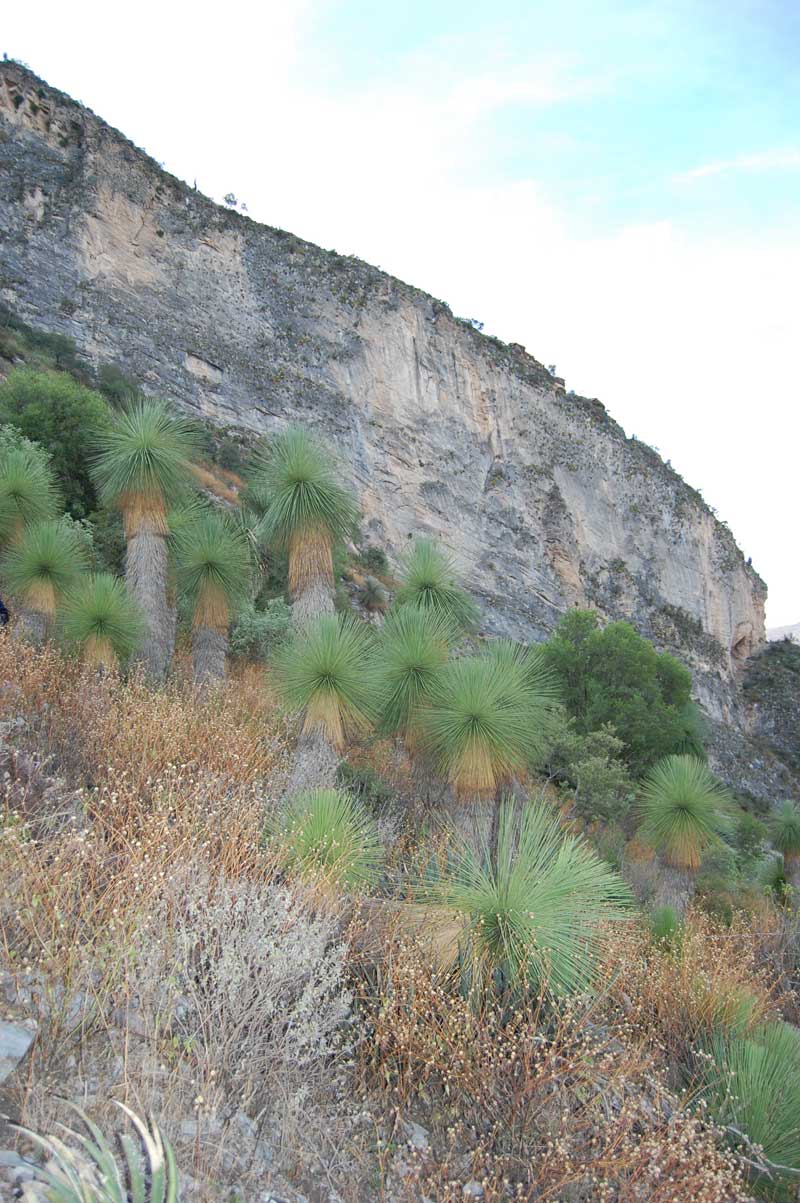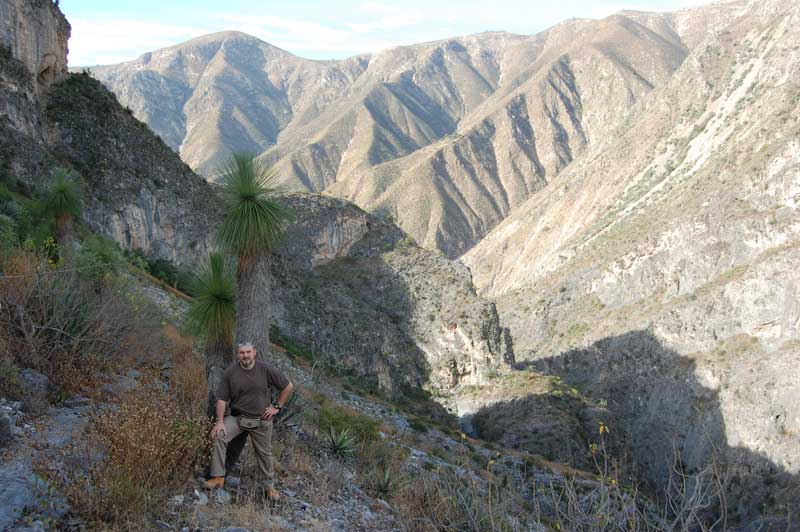 These really are supremely beautiful plants, the finest I have ever laid eyes on. A study in light and shadow in they way that light falls on those stiff rapier thin leaves, making the crown almost shimmer in the sun. Interesting to see that they are definitely suckering. They seem to reach a certain size (or fall over) then start to make suckers. I guess that partly explains why they are found in these little clusters of up to maybe 50 individuals, What was more interesting was that, once you got your eyes tuned into them, the surrounding hillsides were full of little groups dotted here and there. We strolled about the hillside a while - very carefully, as there was about a 1000ft drop after the flattish bit the yuccas were on, as Phil kindly reminded me whilst I was stepping back to take his picture... 'Your doing well considering you have no head for heights' he said. 'Where?' said I. Then I looked. Oh dear.
Anyway, I grovelled back up the hillside and investigated a few other plants there.
Below: a large and attractive Agave lechuguilla/lophantha type of plant. Don't know if it is anything distinct or just part of the mix, but I liked it.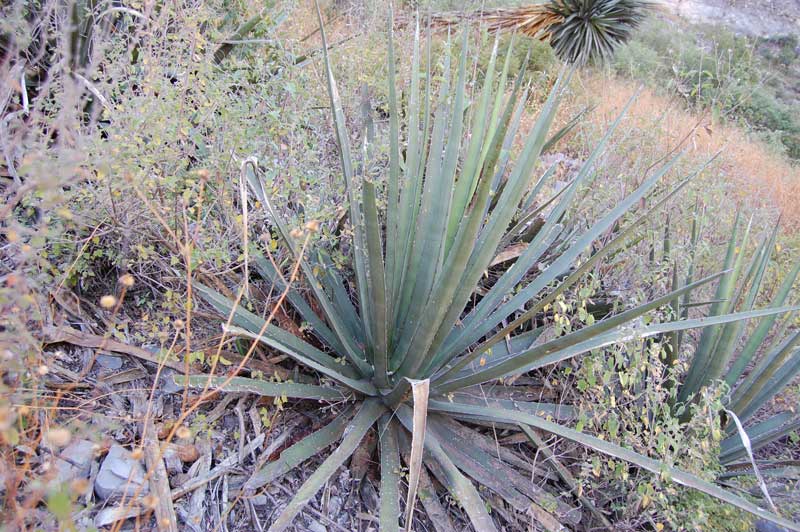 Below: nice little vignette of agaves - Agave xylonacantha, Agave mitis and Agave striata.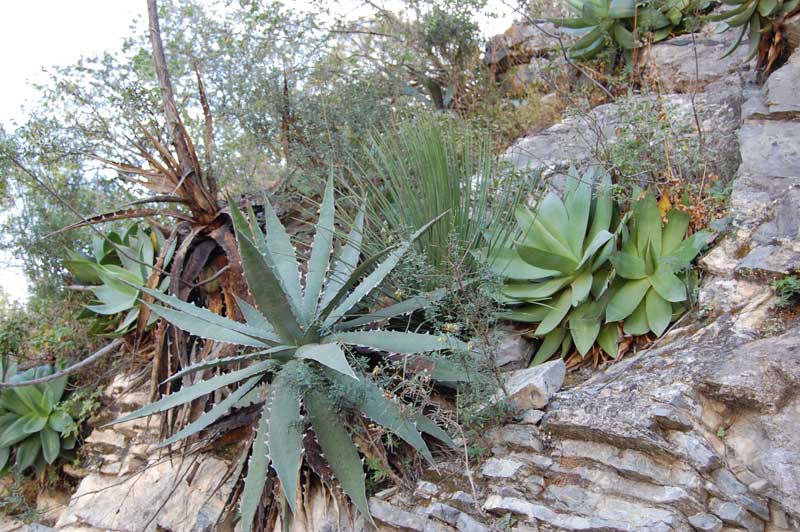 Below: the 'other' local yucca, most likely Yucca potosina at the edge of it's range. Nice plants.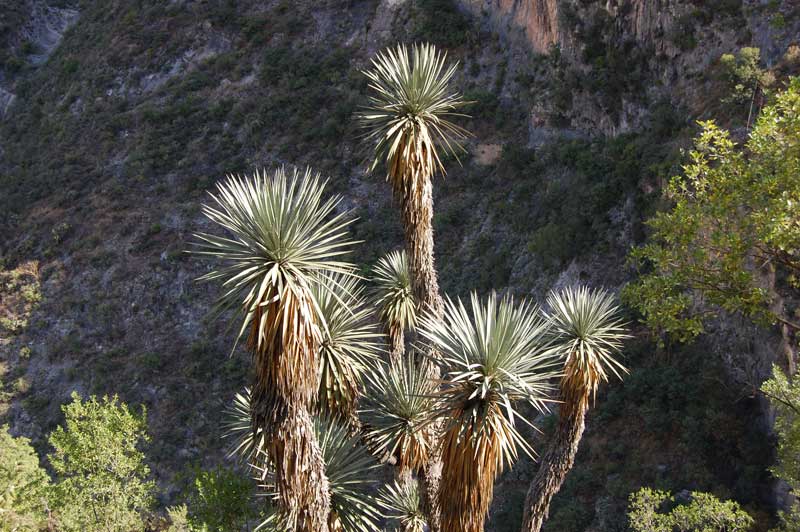 But, possibly most interesting of all, we walked around the corner along an old road cut into the mountainside, following it to where the track ended. The hillsides ahead of us were covered in many, many groups of Yucca queretaroensis. We also spotted many more on the way back, now that our eyes were tuned into them, and between us estimated we'd seen close to a couple of thousand individuals within a shortish distance of that one road. Maybe these aren't such rare plants after all - certainly their need to grow on such (generally) inaccessible, sharply sloping banks should ensure they are left in peace.
We dragged ourselves away and headed for Pachuca - via the town of Ixmiquilpan (Iks-mi-KILL-pan) a market town and possibly our best chance of getting the tyre sorted. Which, it transpired, was quite easy - a repair, rather than a renewal, costing the equivalent of £7.50. Then back on the road towards Pachuca, and where we stopped for a small bite to eat. The fact that Neil is a Cornishman (well, an adopted Cornishman) made it all the more interesting to stop and eat a paste and, after practically nothing all day, they were delicious.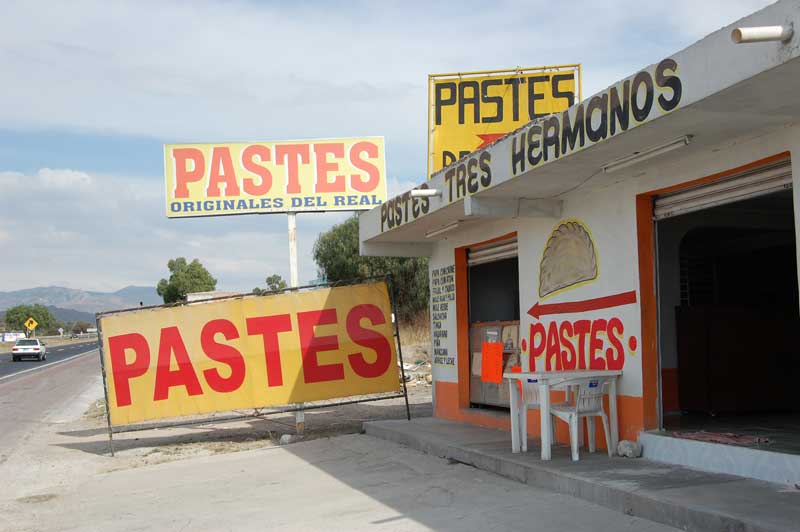 The unlikely but true story behind this is that in the 19th century Cornish miners came to this part of Mexico to lend expertise to the industry, bringing pasties with them. The idea caught on and the 'paste' has now been fully incorporated into Pachucan life. The miners also brought a little game called football with them which, apparently, also proved popular.
We skirted north around the horrid concrete splat that is Pachuca and headed for the hills again. Way up in the mountains there is a thriving ecotourist industry, with Mexicans escaping the city pollution at the weekends to walk and cycle in the fresh, clean mountain air at Parque Nacional Mineral del Chico. This is an extremely attractive, densely wooded area where, occasionally, the wooded skyline is punctuated by the jagged eroded tips of long since dormant volcanoes. And it is also the home of Furcraea parmentieri, found only on these kind mountains at pretty high altitudes. In this case nearly bang on 3000m.
Below: Here is Phil standing next to a relatively small but densely crowned specimen.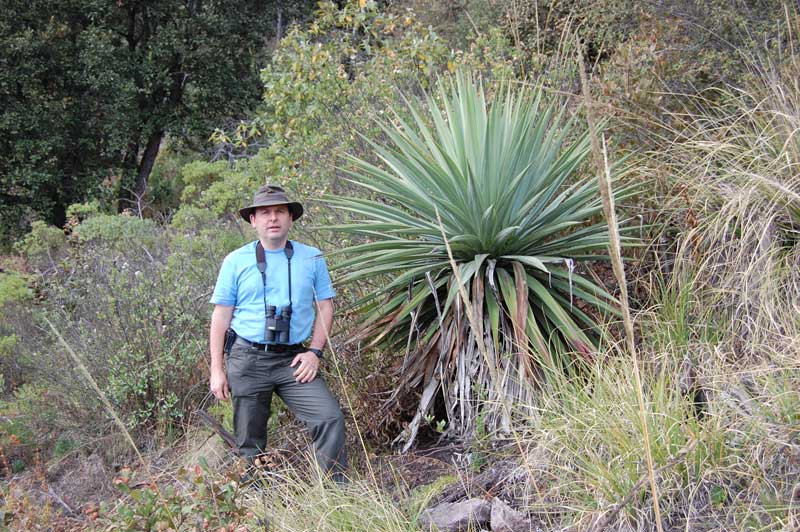 Below: it is also home to a particularly fine form of Agave salmiana - very compact and chunky.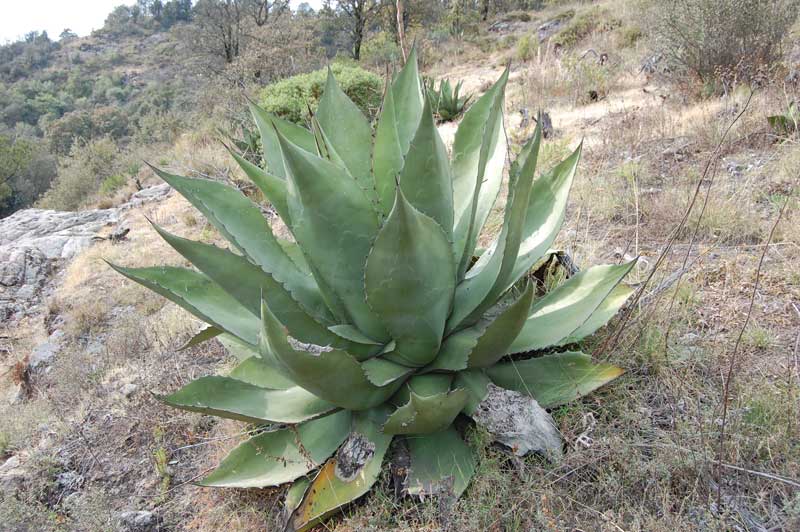 Below: also this pretty little echeveria, way up at the same altitude.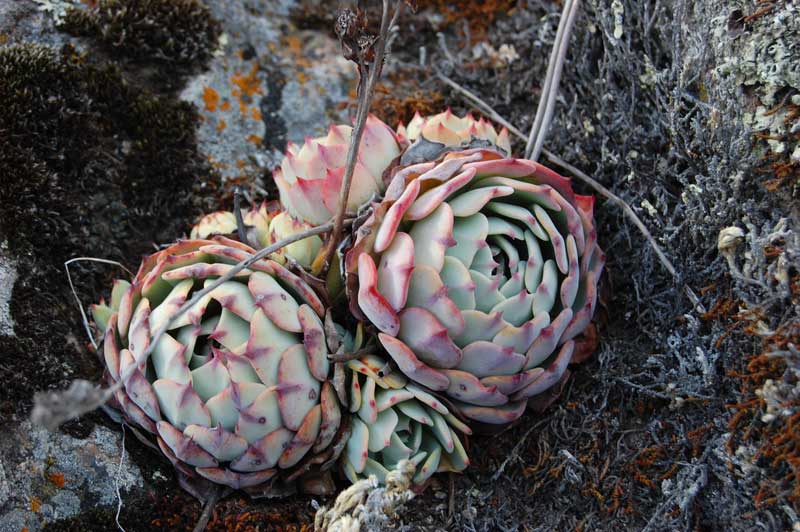 To my extreme annoyance, my camera suddenly developed a fault so no more pictures that afternoon. Which was doubly annoying as Neil and I spotted some huge furcraeas in the distance which, when we trekked over to them, were 4m trunked monsters just pushing up flower spikes.
Trebly annoying was when we got to our hotel and I found the problem was a silly little thing cured in a second or two affecting just the viewfinder. Never mind, I have the memory, if not the pictures. Meanwhile our hotel (El Paraiso) was an extremely swish affair right up in the forest with superb rooms, showers so powerful they made your head bleed and a half-decent restaurant. Quite dear by Mexican standards but worth it - around £38 a head for late afternoon snack, dinner, room and breakfast.
12th 13th 14th 15th 16th 17th 18th 19th 20th 21st 22nd 23rd 24th 25th 26th 27th