Sunday 2nd December
Another late-ish breakfast at 8:15 at Caf้ Los Cuiles, recommended by our chef friend last might. Very nice, but slightly off-putting to see a huge cockroach clambering about the walls…
Our aim for the day was to head north out of Oaxaca along Hwy 175 into the high montane cloud forest region to be found in the Sierra Juarez mountains. We stopped 52km north of the city to look at a large and extremely variable population of Agave potatorum at 1850m.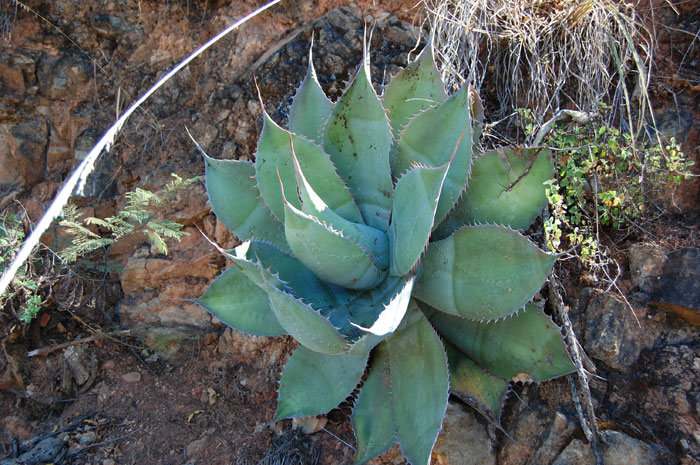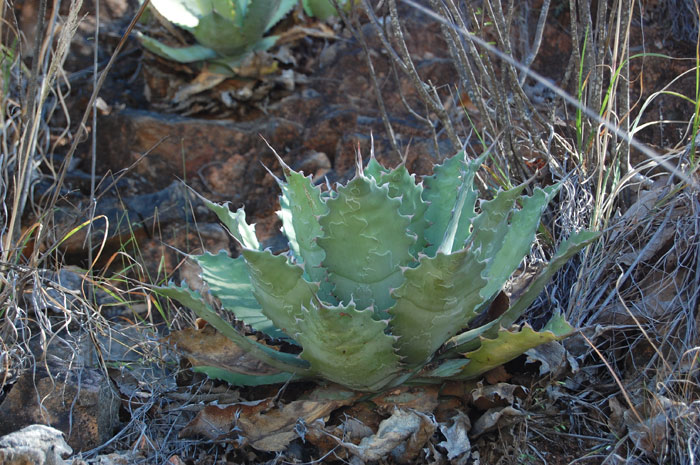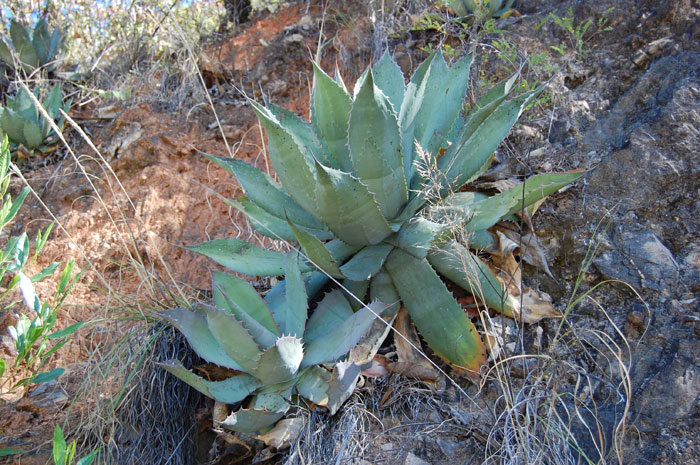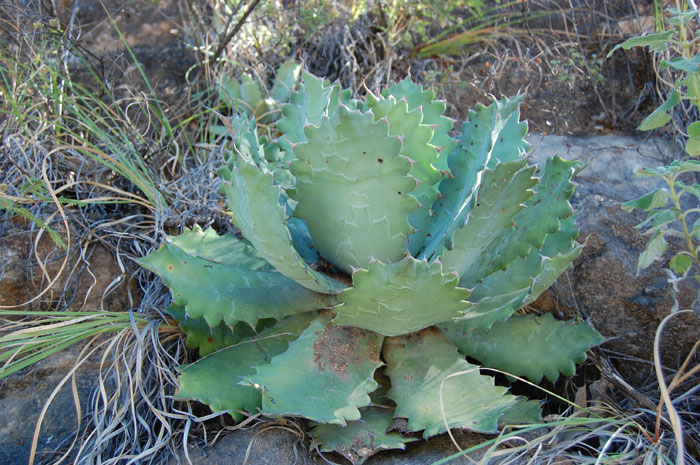 Around 10km further long we saw what we reckon to be Agave americana ssp oaxacensis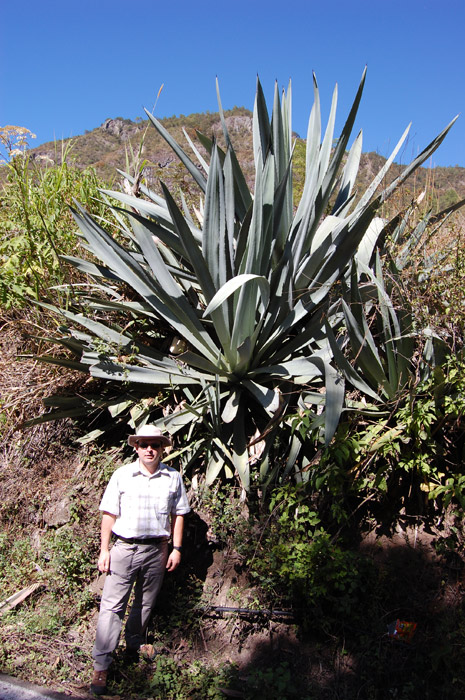 and then, just up the road, a cultivated plant of what looked (and felt - very scabrous leaves) for all the world to be Agave franzosinii – a plant not known in the wild. That is particularly interesting and makes me wonder if there is a population of these somewhere in the region? Still, that is for another trip.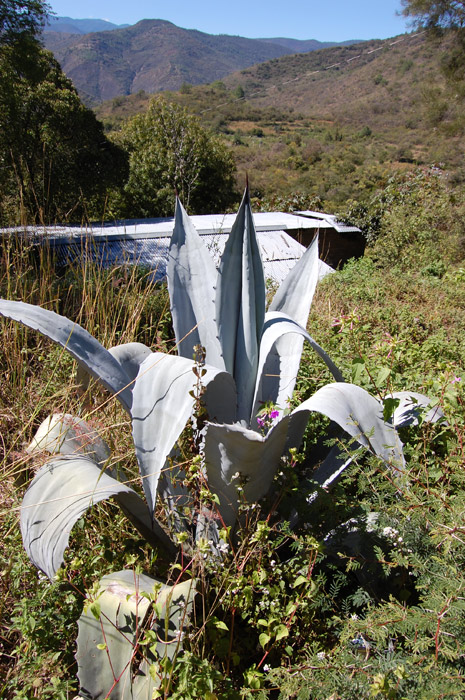 Meanwhile I was becoming increasingly irritated by a series of bites on both arms that I had evidently picked up from creatures sharing my bed at our less then salubrious stop-over at Tapanatepec.
We soon started the rollercoaster trip up, along and down the mountain road, passing by some Agave potatorum and colourful Hechtias at lower altitude, Agave atrovirens at higher altitude plus our unknown yucca again. We drove along a ridge for some distance before reaching a high of 2880m, at which point the road seemed to abruptly change to the north side of the mountain. In an instant the environment changed to much wetter conditions – more luxuriantly growing pines that were festooned with Tillandsias and lichens – the road cuts were dripping with ferns. From there the road descended and, as it did, the plants became more and more interesting until it became treefern heaven. I have subsequently been told the ID of some of these by people who know these things, but to my untrained eye I reckoned we saw 8 or 9 different species. Some huge, some skinny, all beautiful.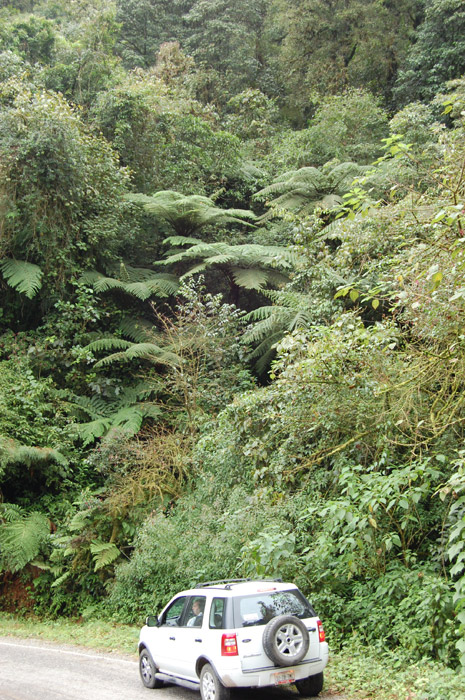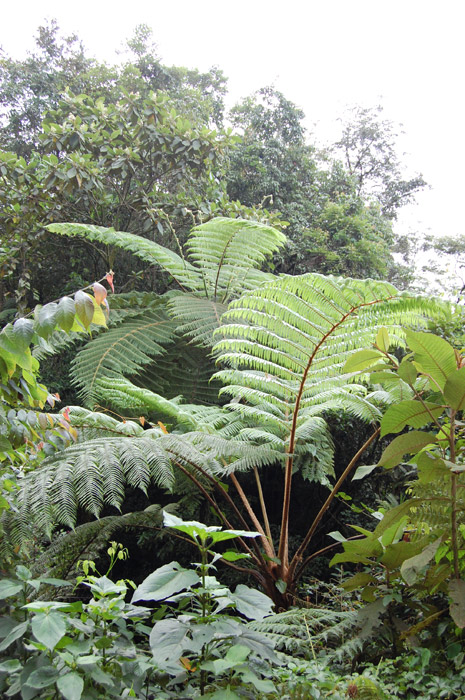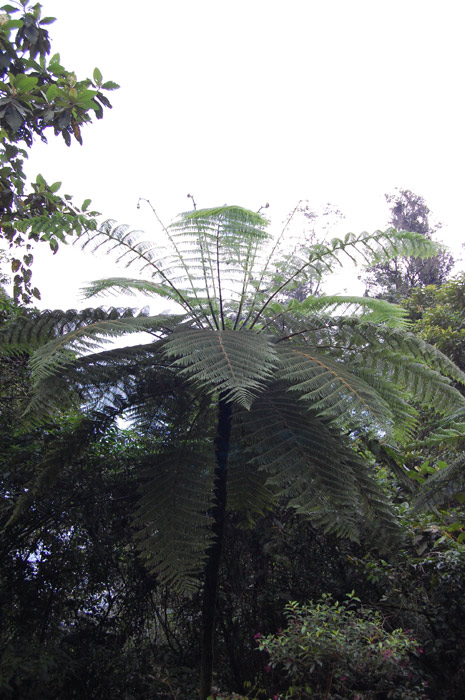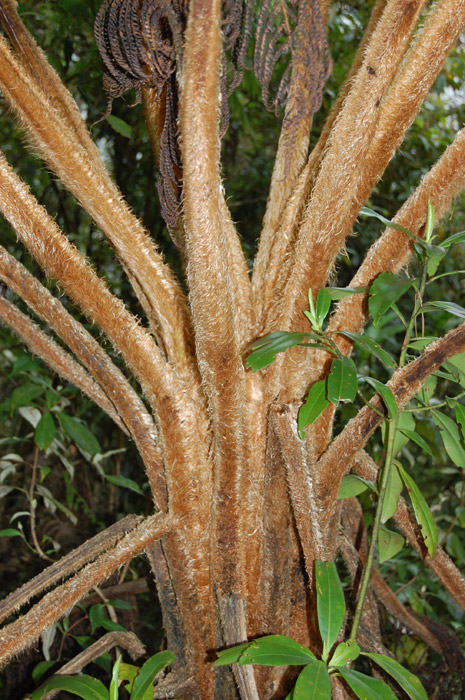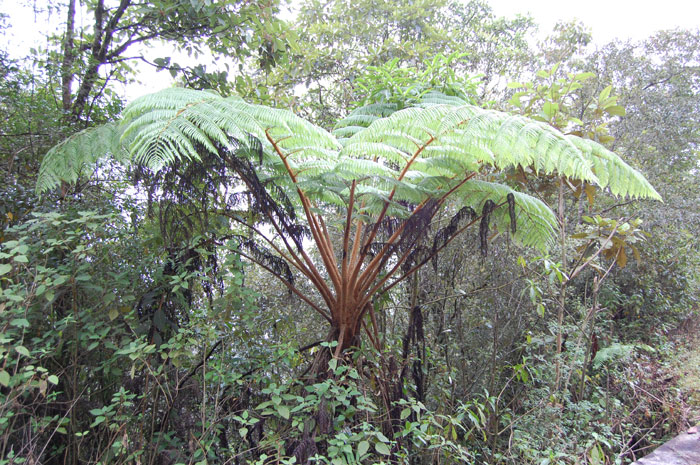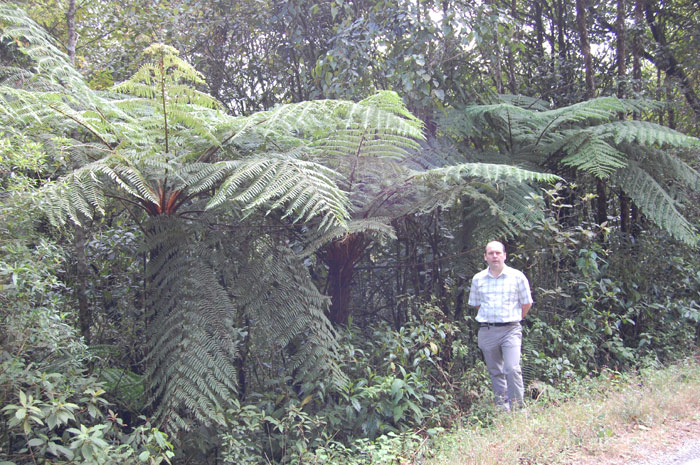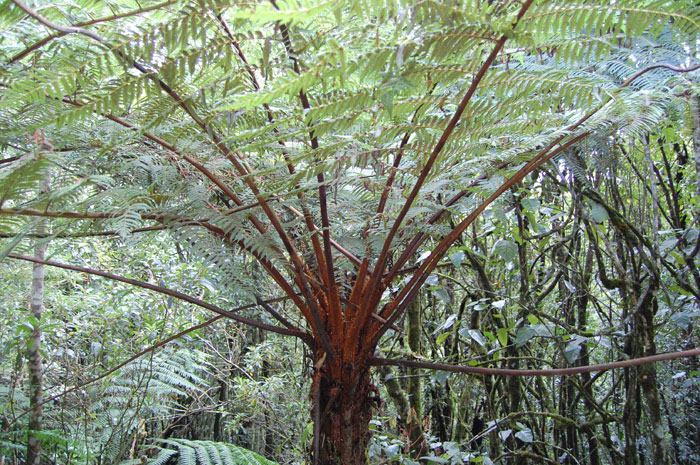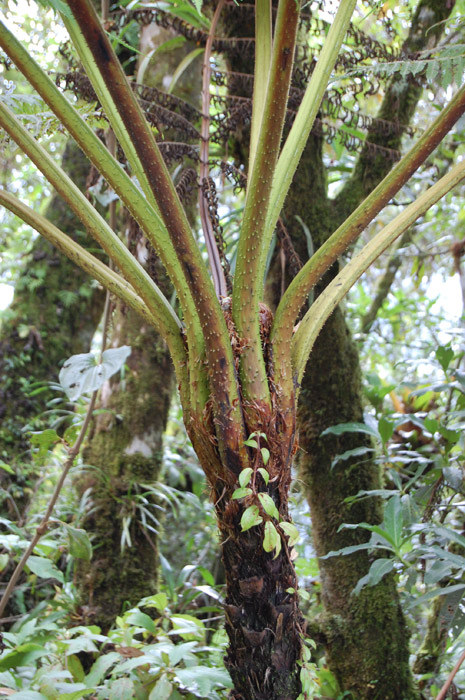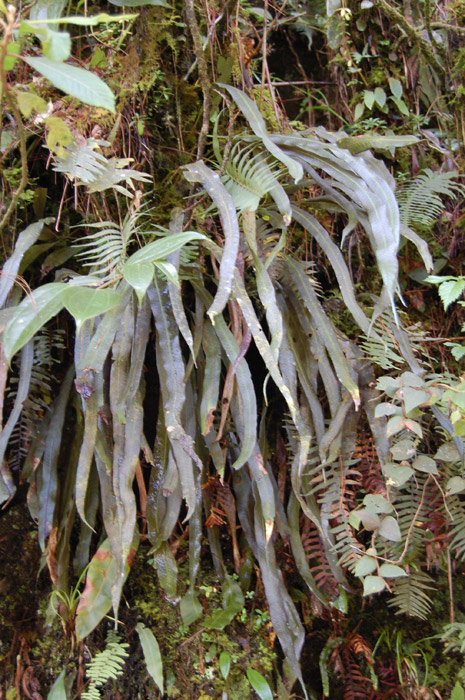 Below: two cloud forest shrubs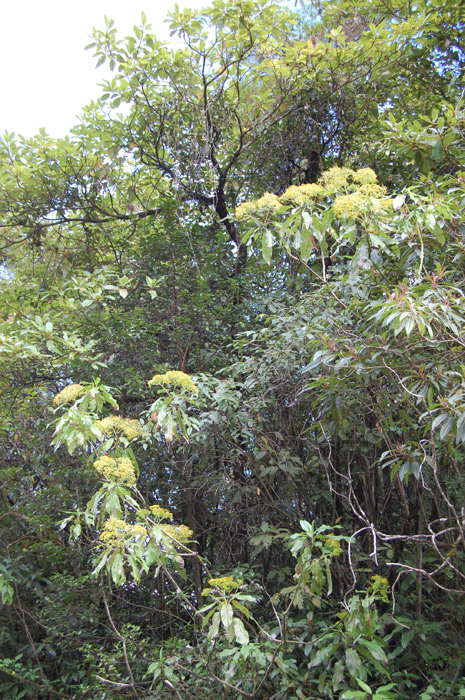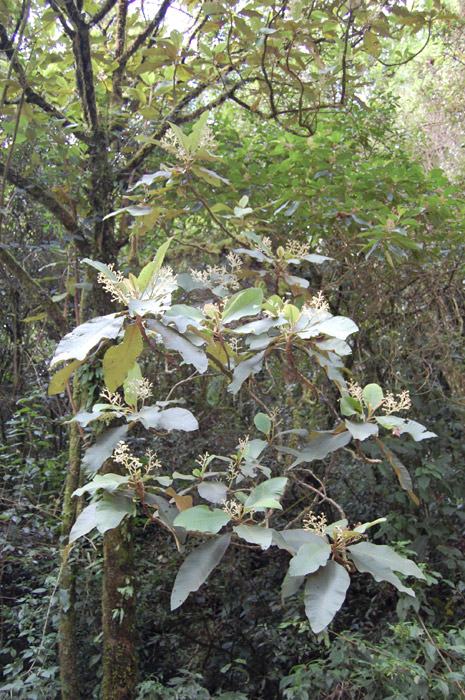 To start with we stopped and photographed plants around every bend but, finally, just drove and marvelled.
Time was against us again and, without reaching the end of that glorious stretch of road, we turned around and started heading back to Oaxaca. Unfortunately the fuel guage seemed to react to the change in attitude from downhill to uphill and immediately went from one third full (no hay un problema) to less than one quarter (un problema muy grande). We reached the summit ok and reached the start of the ridge. Then the fuel light came on. Oops. Then a nervous 20km drive along the ridge road – still ok, but down to one bar on the guage. Phil then carried out an extremely skillfull piece of driving – coasting all the way down 25km downhill section with the gear in neutral. We were approaching the next nearest town, Ixtlแn, without either of us recalling seeing a Pemex there – then, just as the fuel situation seemed impossible – there it was. We made it. So we discovered the one major drawback of the Ford Ecosport – a microscopically small fuel tank and dodgy guage.
Anyway, we made it back by sundown and headed into town for some food – which ended up being rather disappointing at a place on the main zocalo, made worse by some dire live cabaret and children begging round the tables.
Direct links - 25th/26th 27th 28th 29th 30th 1st 2nd 3rd 4th 5th 6th-9th