Thursday 6th December.
7:15am breakfast, good at M$100, and straight out of town to that northern stretch of Hwy 175 that we had missed a few days earlier – our route having effectively taken us round a huge loop. Back in the cloud forest, we stopped to look at and photograph more treeferns than I thought could possibly exist.
Below: fern tree and treefern - left - Schizolobium parahybum. Right Cyathea sp.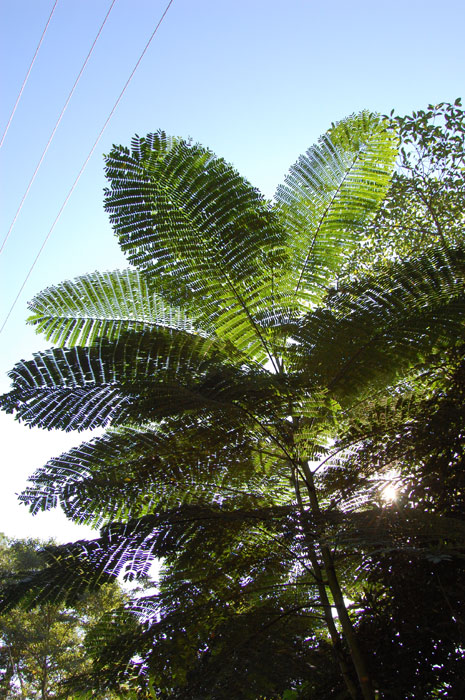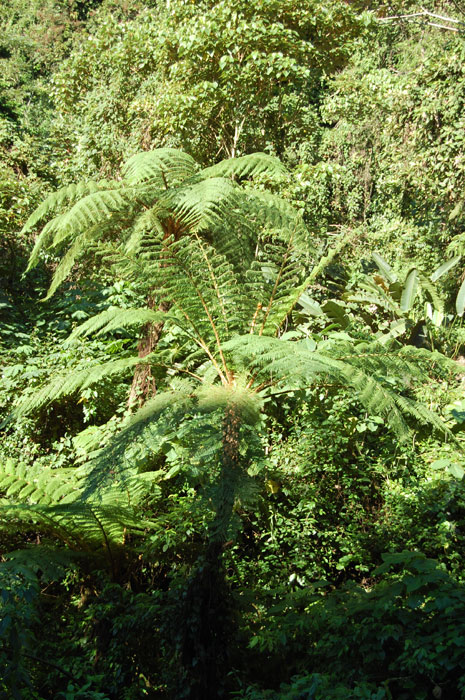 Below: Cyathea sp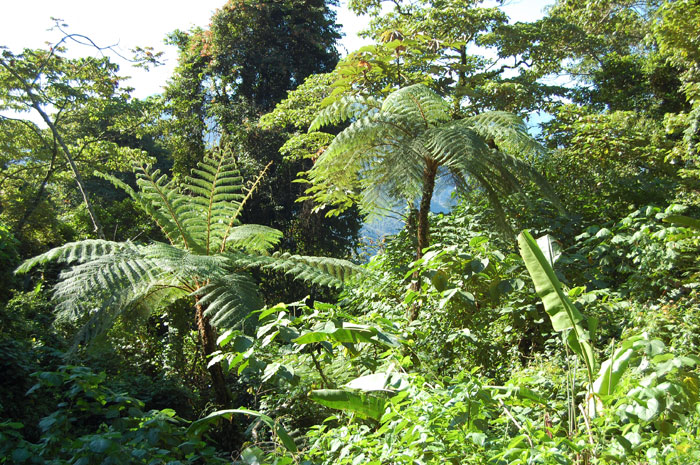 Below: Xanthosoma sp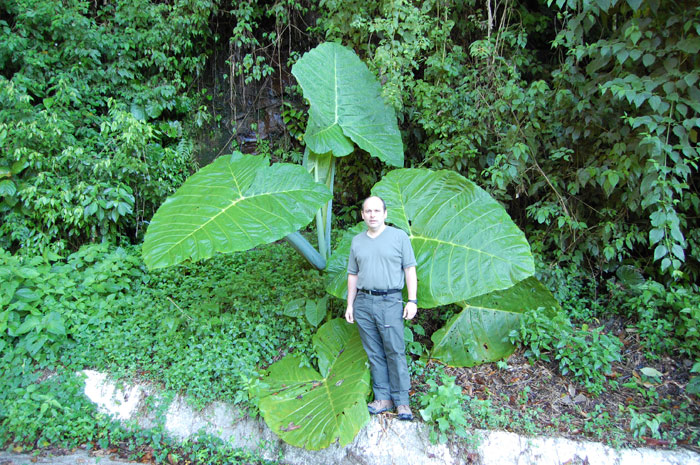 Below: Cyathea sp - left possibly C. fulva, right Cyathea princeps.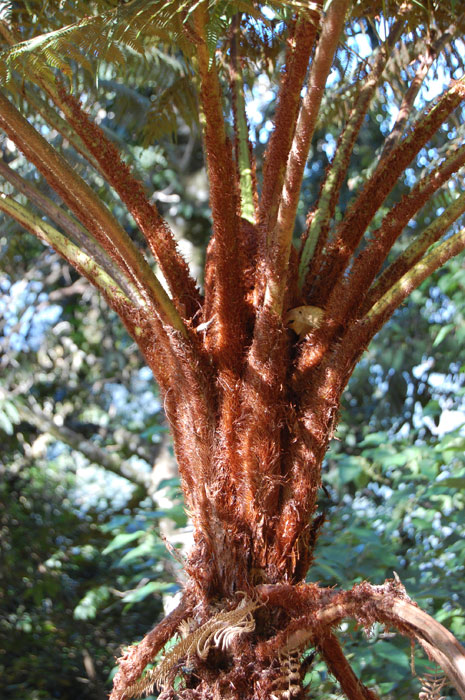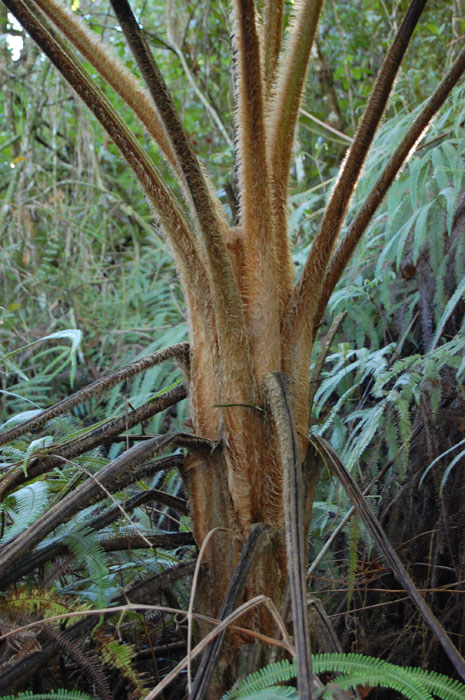 Below: Left, the majestic Cyathea princeps, right Cyathea sp.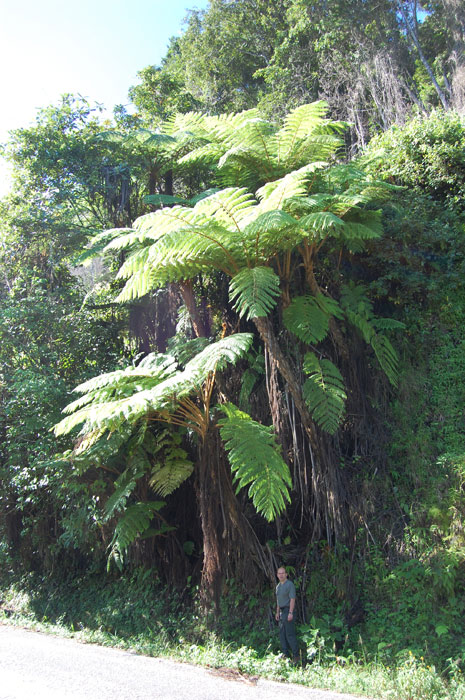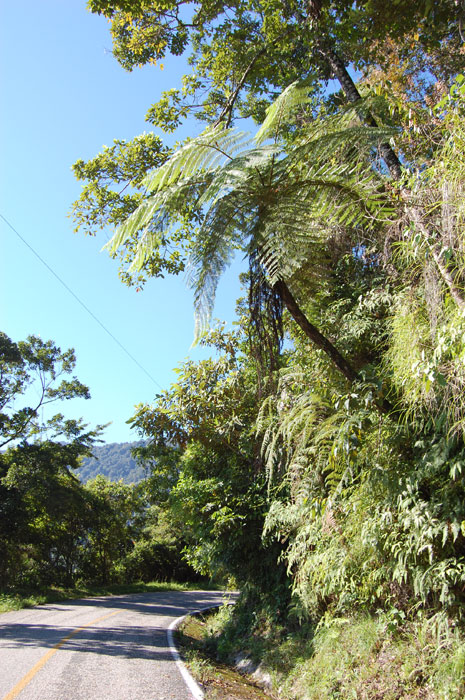 Below: left, Cyathea sp Right, Cyathea bicrenata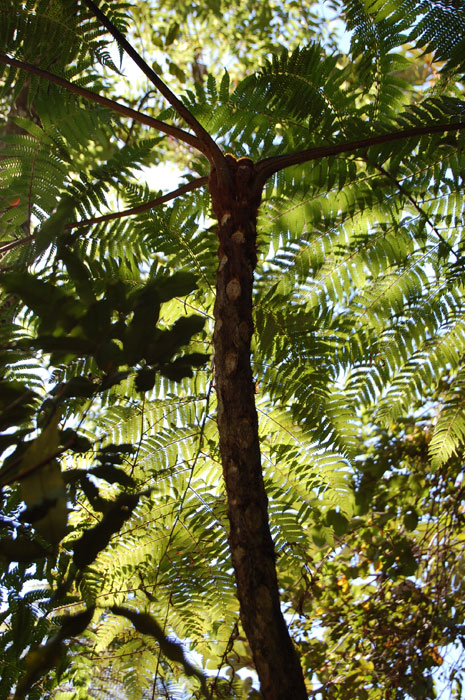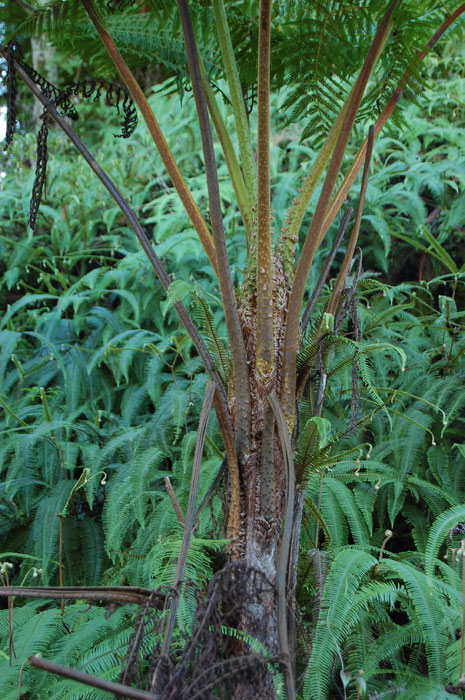 Below: Cyathea bicrenata
Below: left, Cyathea bicrenata Right, Cyathea princeps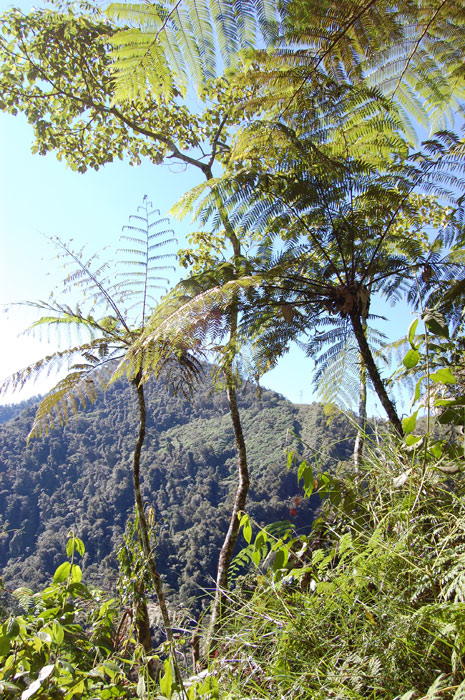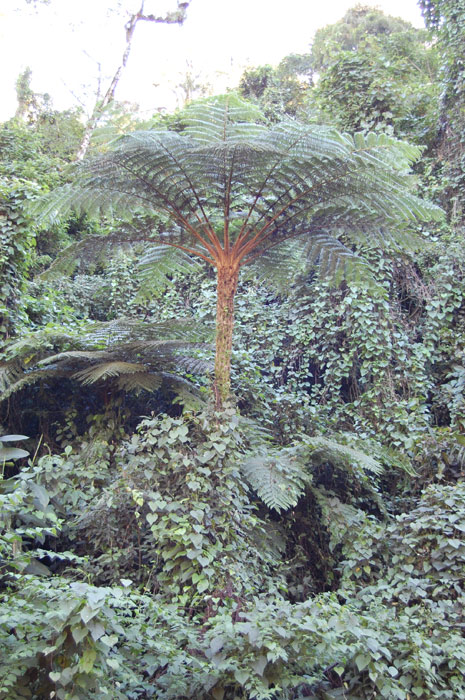 Below: left, epiphytes and Heliconias abound Right, A Canna species with glaucous leaf reverse - these were 4m tall monsters.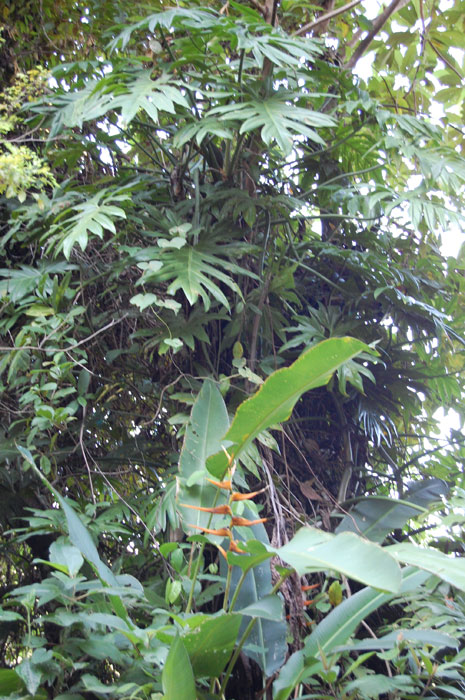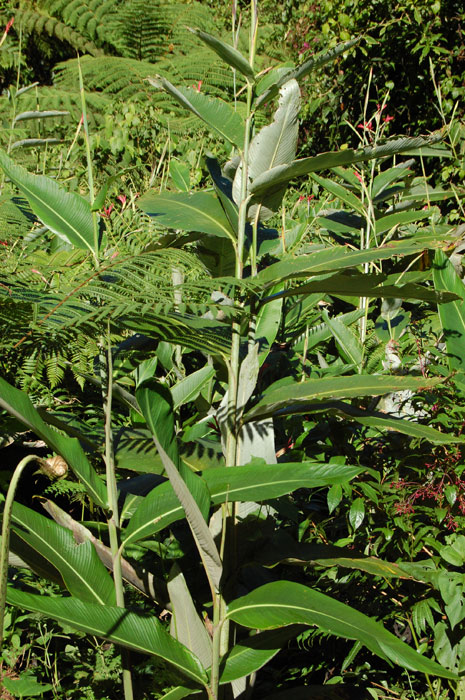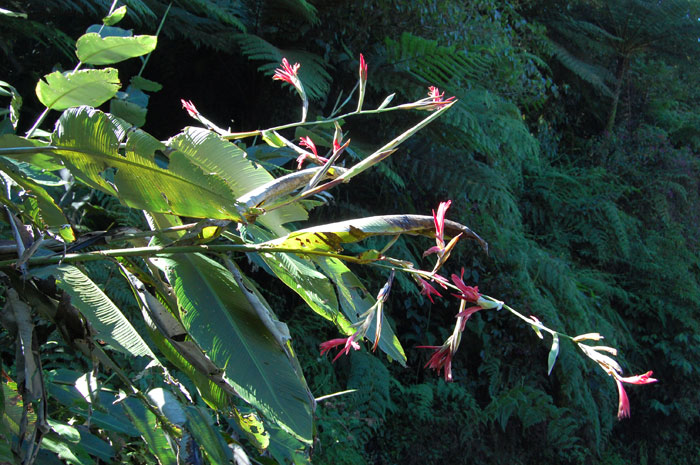 Below: a gorgeous ground fern, Pteris podophylla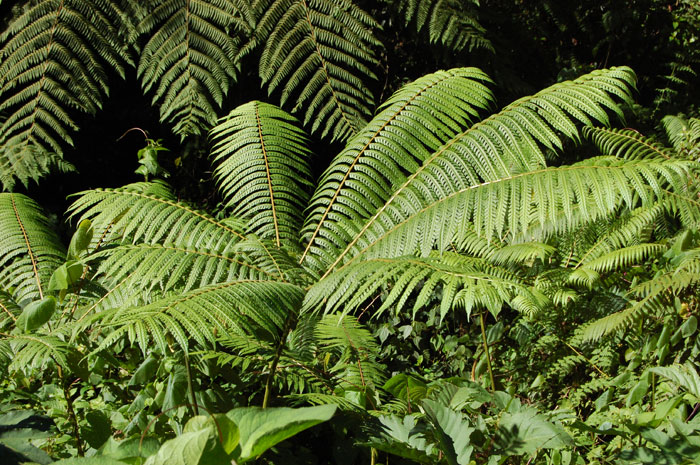 Below: Cyathea sp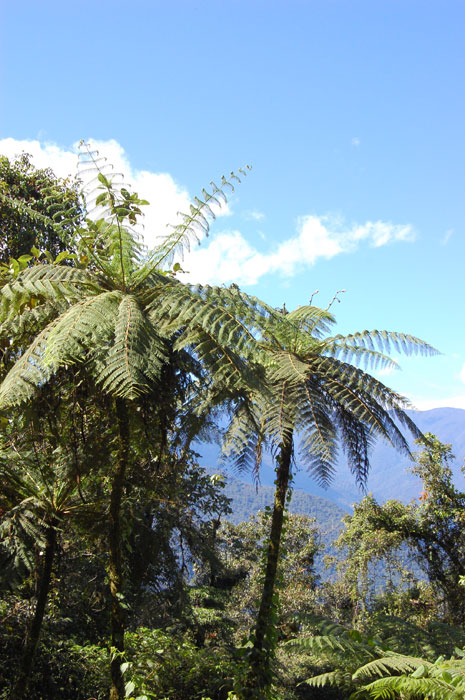 We reached where we got to before then turned back to Tuxtepec – deciding as we were ahead of schedule that we could take the old road, not to the toll road, to Acayucan. Big mistake, as all the huge lorries also made that choice and we covered the 100km in a mind cloggingly boring 3hrs. Eventually reached town and booked into Hotel Kinaku – nice and comfy at M$590. Unfortunately Phil began to feel quite unwell.
View from our balcony on 6th floor.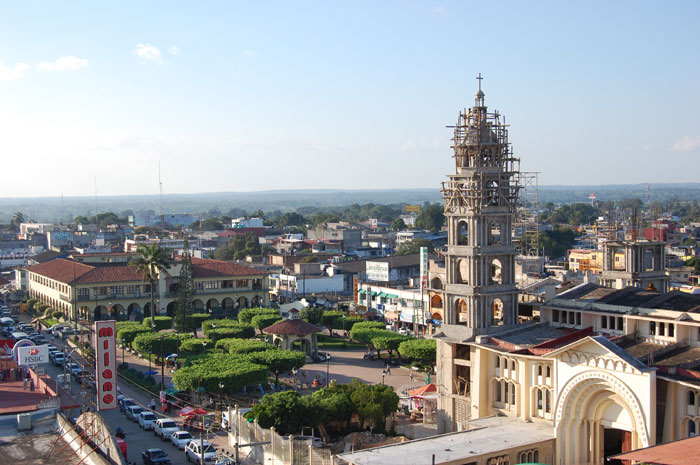 Friday 7th December
Phil wasn't well and I must have been tired as I slept like a log - neither of us woke up until 8:45am. I had breakfast and we headed off – aiming for Ciudad Del Carmen. Phil dozed, waking only to help with directions when I managed to turn the wrong way on a single highway... that northern coast of Veracruz and Tabasco is one huge swamp with huge stands of Attalaea, Acoelorraphe and a few hectares of Thalia.
It was with some trepidation that we drove through the city of Villahermosa in Tabasco state as the area had been subject to the most severe flooding in recent history only 4 weeks previously but, in the event, there was little sign of this save for discarded sandbags on the roadside and some potholes. And they were probably there before the flood.
Went through lots of toll roads and a very long road bridge joining onto the island city, Ciudad del Carmen, by 3:30pm. A horrible, congested characterless place, we decided to drive on to the small fishing town of Champotón for our overnight stop. It took 30 minutes to get our place in the Pemex – busy place. Then another very long bridge and long drive to Champotón, reaching Hotel Snook Inn by nightfall. Phil was still not up to eating, so I had dinner alone – lovely chicken fajitas for M$150.
Saturday 8th December
Up at 7.30am, I had breakfast, Phil just coffee. We started off on a relaxed drive back to Valladolid, heading for the same hotel as the first night. Nothing eventful happened until the fuel tank suddenly dropped once again and we found ourselves near Chichén Itzá running on fumes. Infuriatingly the nearest Pemex had run out of fuel, but a taxi driver (our new friend Willy) saved the day by offering to lend us a can and take me to the nearest fuel – 40km away at Valladolid - while Phil stayed with the car. Nevertheless we still arrived at Valladolid by 4pm. Same hotel, same restaurant, same excellent value.
Sunday 9th December
Our last day – a lazy breakfast followed by a lazy drive to Cancún to return the rental car (a conveniently timed heavy rain shower washed off most of the mud we had collected over the fortnight) then check in at the airport to await the long flight home.
So that was that. By the end of the fortnight we had covered 4812km through pretty well all the climates zones and habitats it is possible to see in Mexico. It was an absolutely amazing experience – I saw things I will never forget and the whole trip re-enforced for me the magic of Mexico. The food was varied: from Phil's poisonous enfrijoladas to our sublime mole-covered delight at Oaxaca. We discovered the joy of añejo mezcal. We drove through the most spectacular scenery. The roads in southern Mexico seem an improvement over those in the centre and north, but you do have to pay for the privilege. But, once again, the plants were the stars. To see these wonderful things growing in the wild, not placed by man, is a thrill beyond compare.
My only regret is that we were forced to cover too many miles in too short a time and weren't able to explore certain areas more fully. But, then again, there is always next trip….
Edit - I'd like to think those on the BCSS forum for identifying the cacti and John Mickel for identifying the treeferns.
Also there are approximately 20 pesos (M$) to £1 Sterling, 10 pesos to US$1.
And, finally, here is a Googlemap of the itinerary:
View Larger Map
Direct links - 25th/26th 27th 28th 29th 30th 1st 2nd 3rd 4th 5th 6th-9th