Wednesday 5th December
Breakfast at 7:40 then off. The aim for the day was to find Agave titanota following a route kindly given to me by Brian Kemble, curator of the famous Ruth Bancroft Gardens in Walnut Creek, San Francisco - a man who has patiently answered my barrage of emails with the most incredibly detailed information for several of our excursions. We drove southeast on Hwy 182, stopping a little NW of Tilapa to look at a group of Agave macroacantha. These were at an altitude of only 975m in an area where bananas and coconut palms were being cultivated. I guess that is why it isn't very hardy. Whatever – they are stunningly beautiful plants in the wild, forming almost spherical plants in clustering mounds.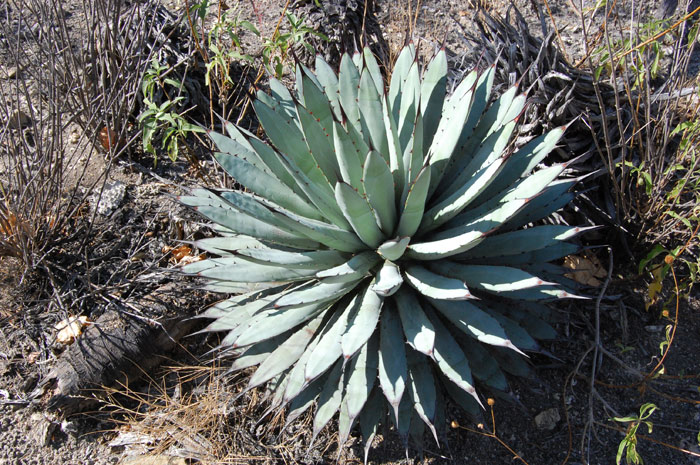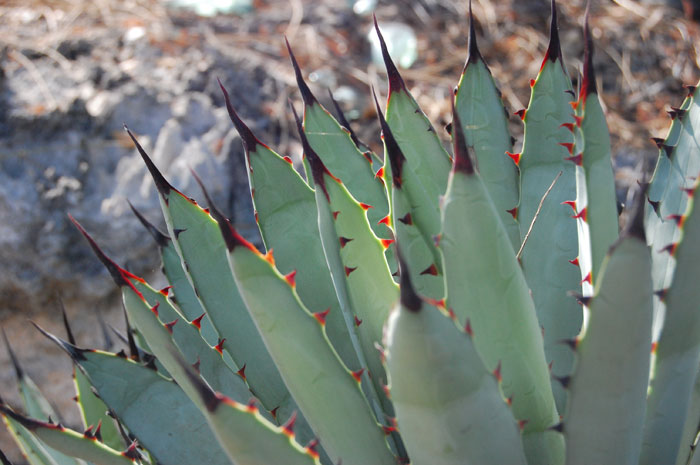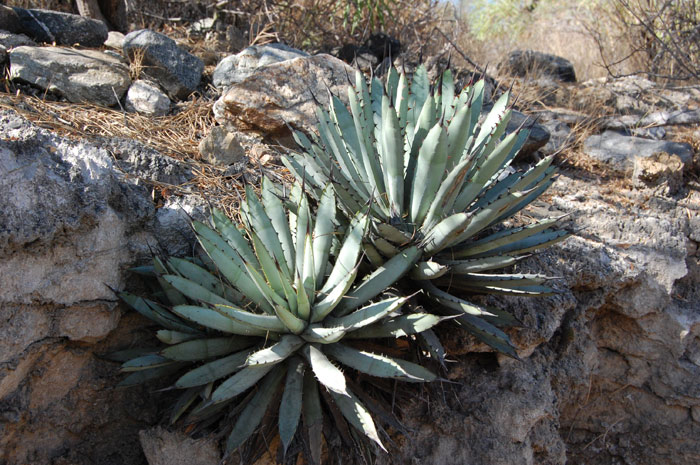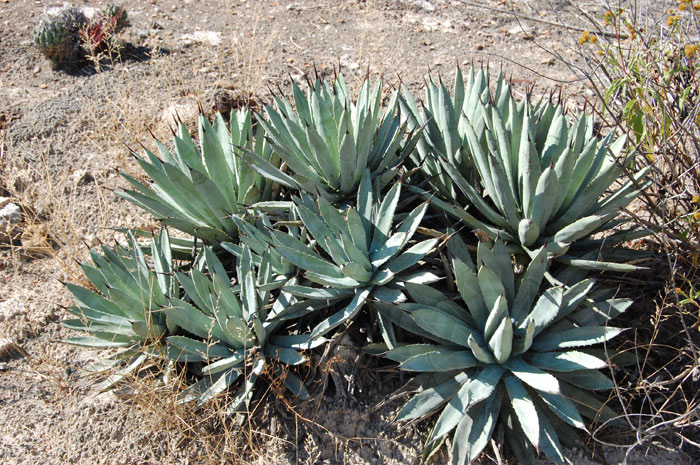 There were an incredible number of cacti around here. Unsurprisingly I don't know the names of any of them but here they are anyway.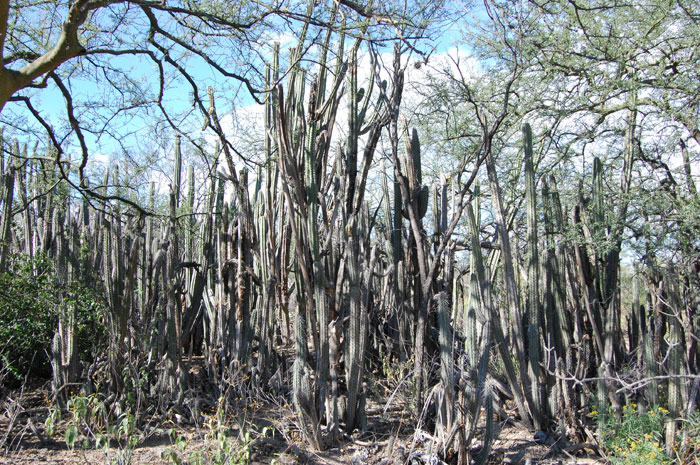 (Edit - Below: possibly Coryphantha pallida)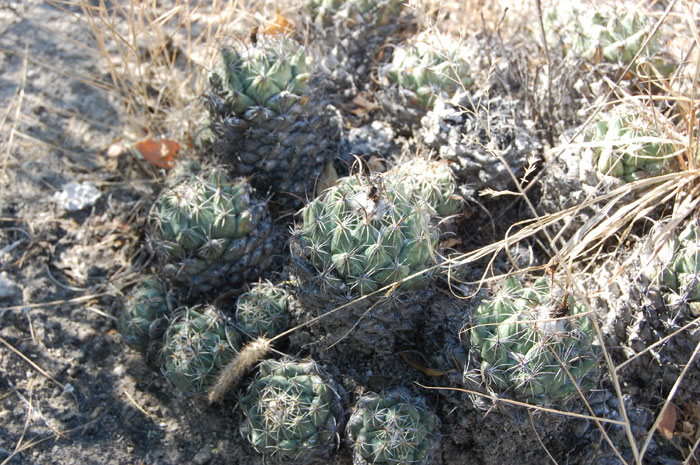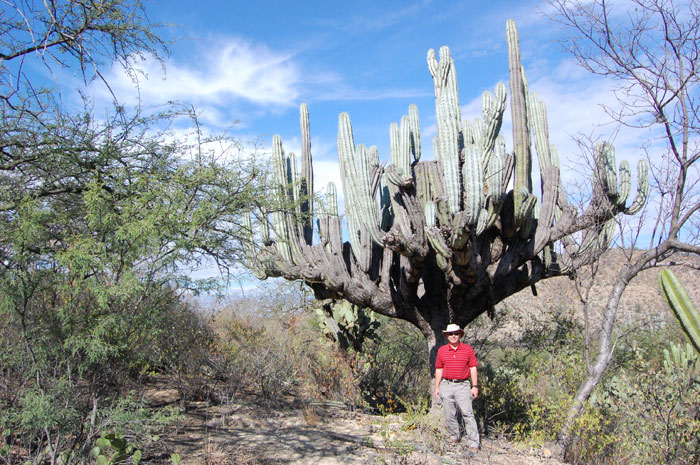 Is the one below a young version of the monster above? (Edit Pachycereus weberii)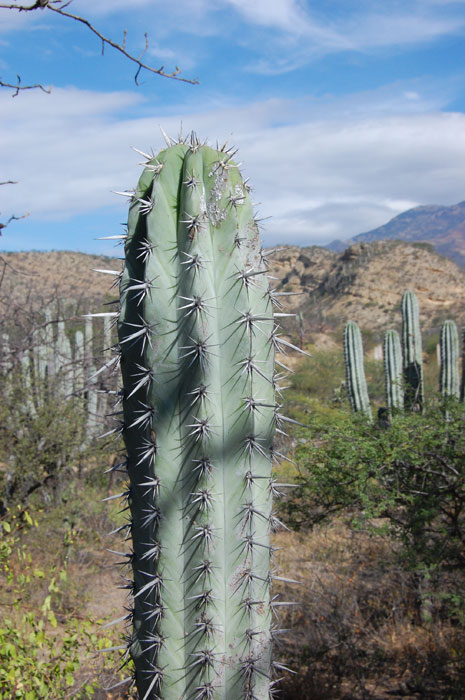 (Edit - Below: possibly Mammillaria sphacelata ssp viperina )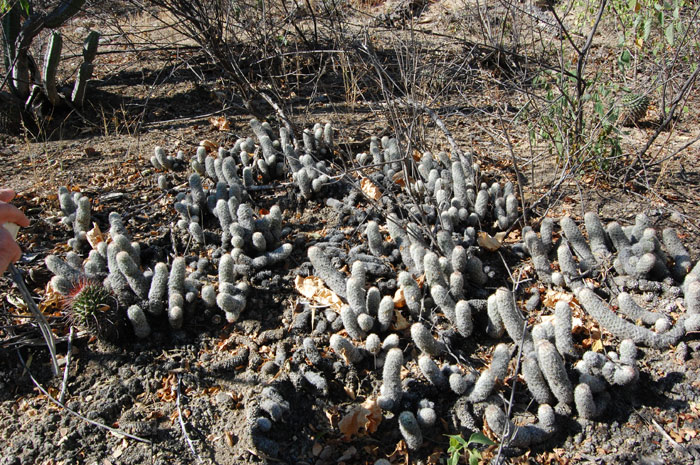 (Edit - Below: possibly Mammillaria carnea)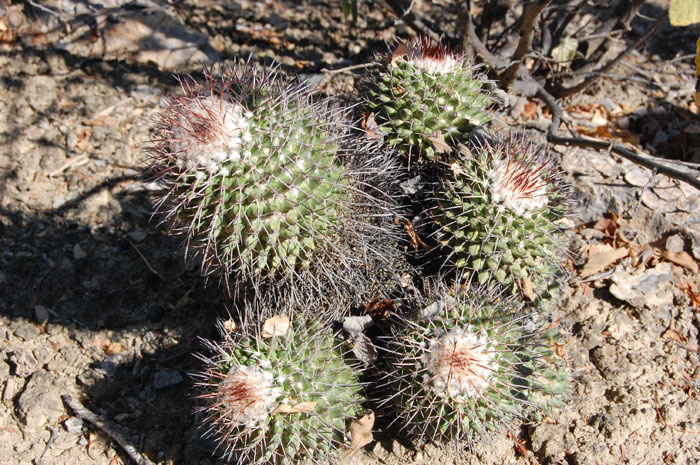 Below: two (or one?) ferocactus species. (edit: Ferocactus recurvus)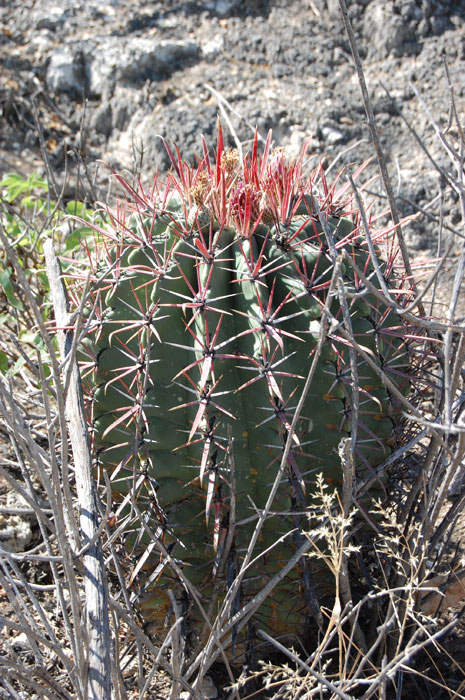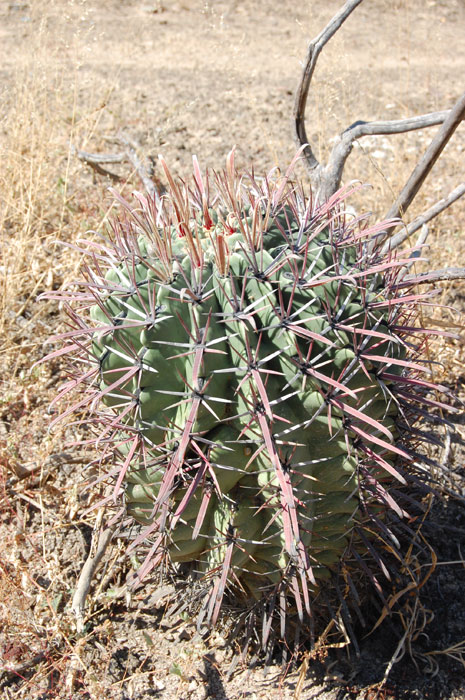 We turned off south onto Hwy 135, then off onto unmade tracks to Santiago Quiotepec and beyond, the road slowly turning into a scary narrow mountain pass following the contours of the sheer sides. My first taste of driving along such a road – not nice!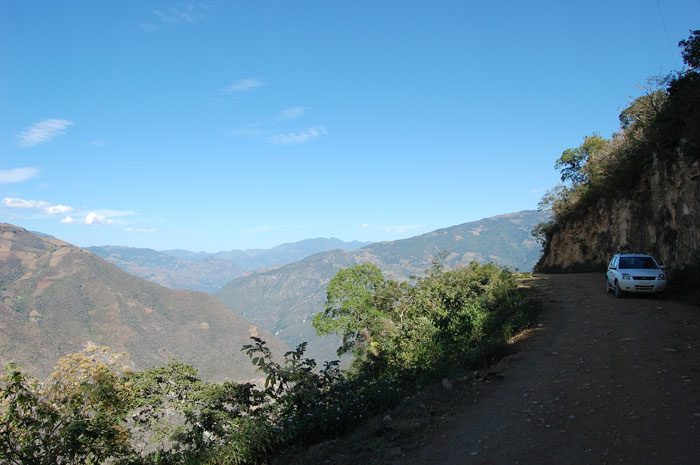 Before we reached the agaves we came across a pair of stranded Mexican motorists and, with our good Samaritan hats on, offered a lift. The lift ended up taking us about 2 hours out of our way along sheer-sided drops, muddy tight curves – never mind, we had enough time to re-visit the Agave titanota and Beaucarnea gracilis we'd seen on the way out. The Agave titanota weren't a particularly good form – plain green and not that toothy.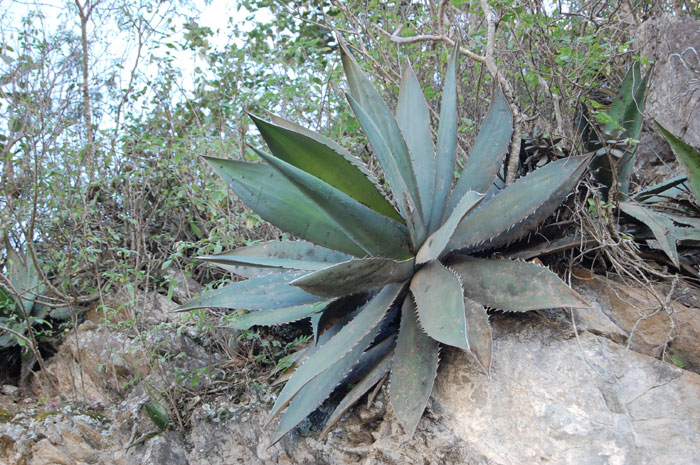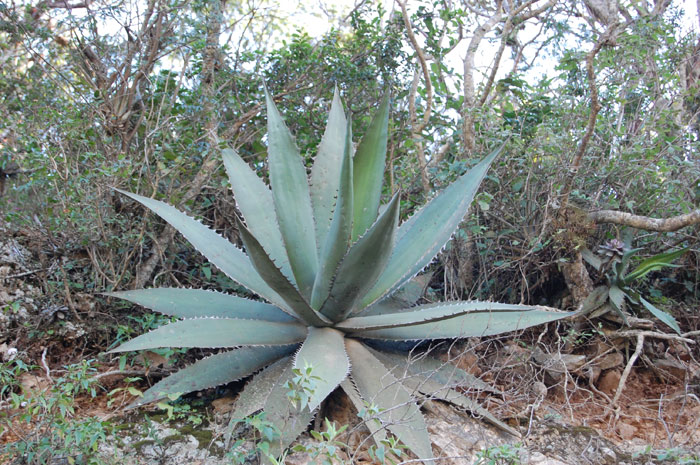 Interestingly one seemed to be growing epiphytically on a beaucarnea.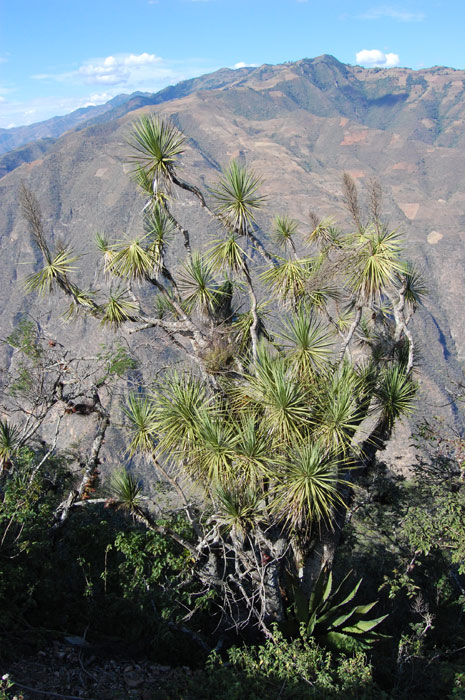 Also growing in this area was the ubiquitous Agave potatorum. There were some plants that could easily have been intergrades between the two species potatorum and titanota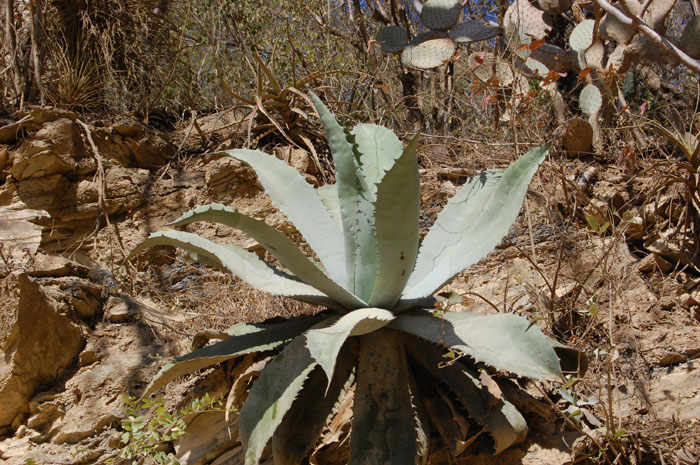 We didn't hang around too long, having some distance to travel before stopping for the day. We soon reached the bottom of the mountain again and the river that ran along there.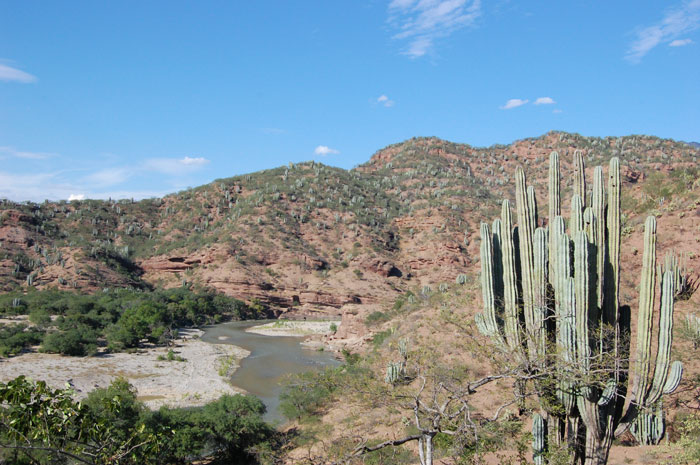 Plan A had been to make our way to Tuxtepec but we realised this wouldn't be possible before the light failed. We decided to head for the small mountain village of Huautla which got a good write up in the guide books. We made slow progress due to lengthy road works, passing (but not daring to stop at) populations of nolinas in the scrub above the road cuts. Then further up we entered cloud forest zone and saw some huge, impressive stands of Telanthophora grandifolia.
We reached Huautla as night fell and found it to be immensely frustrating. It was built into a steep mountainside and consequently all the roads had very steep switchbacks making it necessary to carry out most turns in about 2 goes. Add to that a one-way system thrown into disarray by the main road being closed to a market and making our way around became rather taxing. One hotel was recommended in the guide book (the same guide book that said Tepanatepec was nice…) but we had huge trouble getting to it. Finally we did, only to find it was disgusting.
Decision time – we opted to leave Huautla and press on to Tuxtepec in the dark – not usually to be recommended because of the uncertainty of the road quality and potential hazards such as dead burros etc. The small fuel tank again became an issue and we had a worrying hour or so's drive along the unlit mountain road passing plenty of tiny villages but no Pemex until a very short while before the Tuxtepec. We finally got to town around 9:15pm and the guide book (the more recent one this time…) recommended Hotel Playa Bruges which we found easily. M$380 for a reasonable room, but dinner was disappointing (and not very hot) being brought in from a neighbouring hotel.
Direct links - 25th/26th 27th 28th 29th 30th 1st 2nd 3rd 4th 5th 6th-9th