Friday 30th
Breakfast at 7:30 – fruit platter and entomatadas for me, M$140 for the two of us. Took a few pics around town then down to the beach so I could tell everyone I had dipped my hand into the Pacific Ocean.
Below - view from our balcony...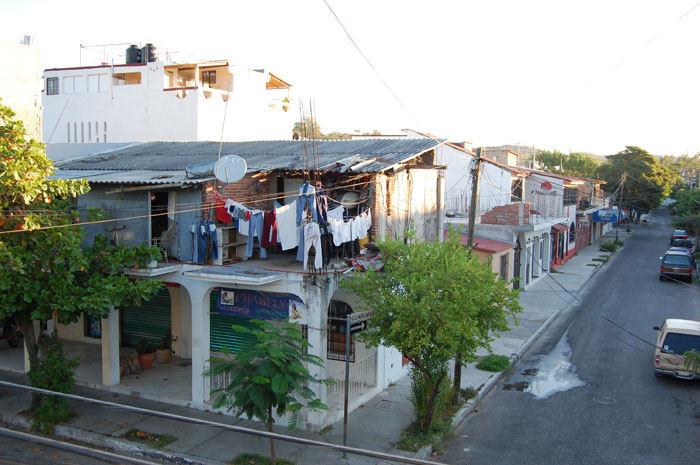 Below: church. The town of La Crucecita is new, but built along traditional lines.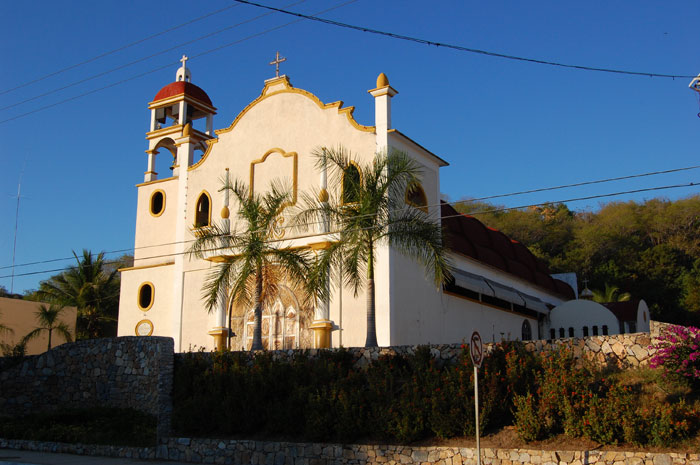 Below: How did that cruise liner fit in there?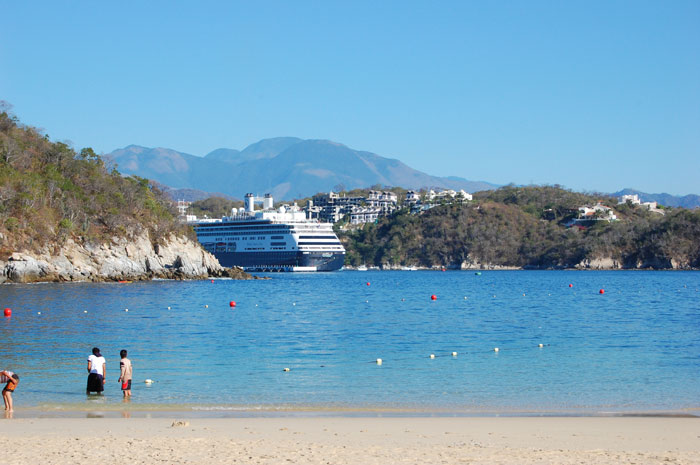 Then, heading west along the coast road, we passed nothing of interest apart from a few Sabal palms until reaching Pochutla. There we turned north onto Hwy 175, fighting our way through the bustling traffic of this lively market town. Once through Pochutla the scenery became more interesting with bananas, Heliconias, coconut palms, huge bamboos, Philodendrons, the odd treefern and a host of other tropical plants lining the roadsides.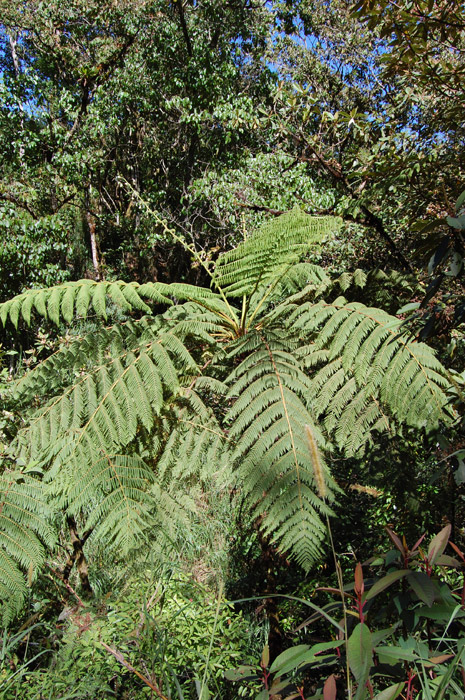 We also started to see an unfamiliar yucca – resembling a very skinny Yucca elephantipes and almost dracaena-like. We stopped to take pictures of an unfamiliar fan palm, which I am now told is probably Crysophila nana, mainly because there was a suitable stopping point – lacking on this twisting, turning road.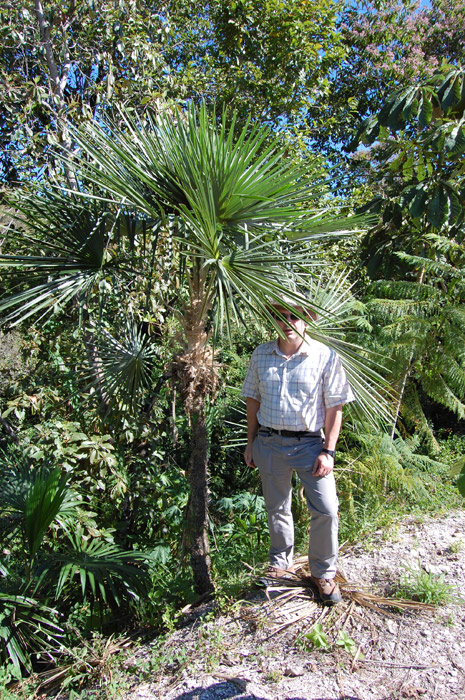 Shortly we started to gain altitude, the scenery changing from lush tropical to temperate pine forest (with a strange interface of pines growing with bananas) and incredible views back to the ocean over our shoulder. We stopped around 2000m to look at some agaves in the road cuts – Agave potatorum plus an unknown or two, and also some magestic treeferns - cyathea sp of some sort - nestled in a damp corner.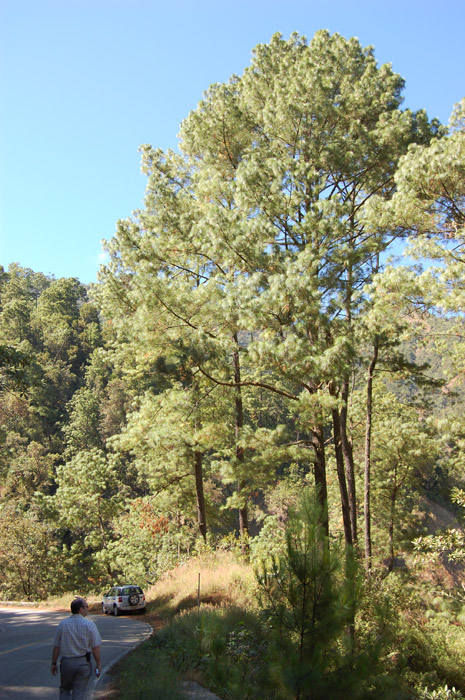 Below: Agave potatorum
Below: unknown agave species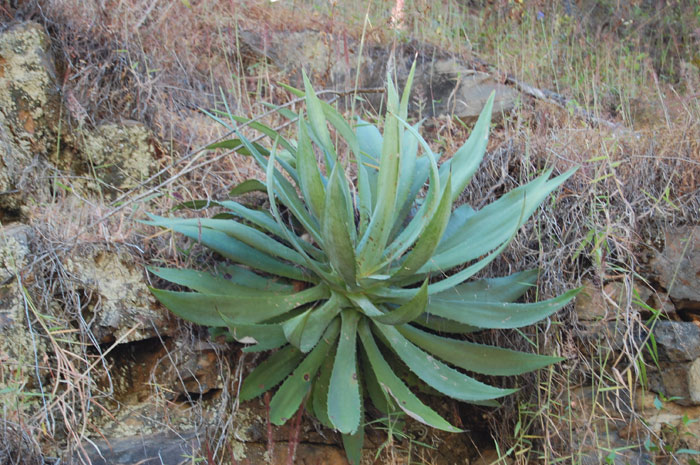 Higher still to 2600m and we started to see Agave atrovirens. We stopped and asked to have a look at plants growing within the grounds of a couple of properties and took some pictures. A very impressive species and extremely variable – some were glaucous grey, some shiny green. Some massive, some small. Some heavily armed with large red teeth, some toothless. Some heavily bud printed, some unmarked. Yet, somehow, all recognizably the same species.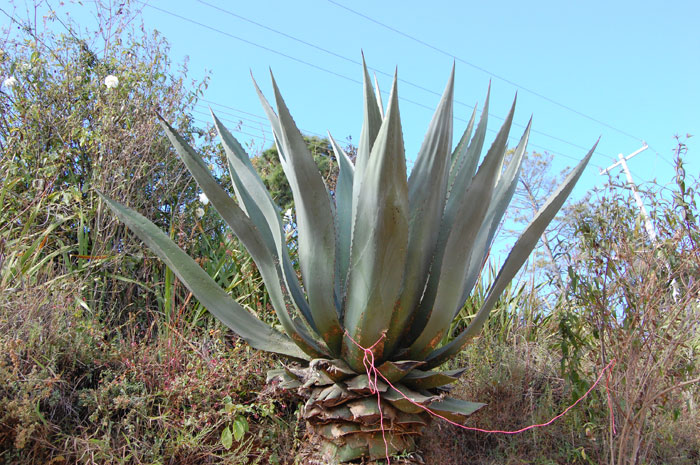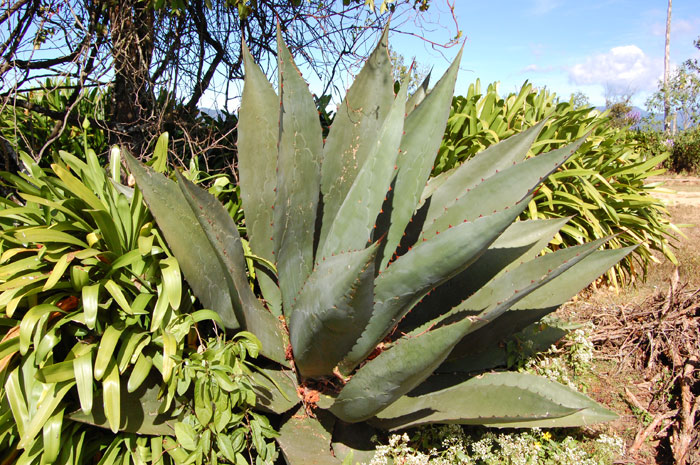 Below: this plant was almost completely toothless.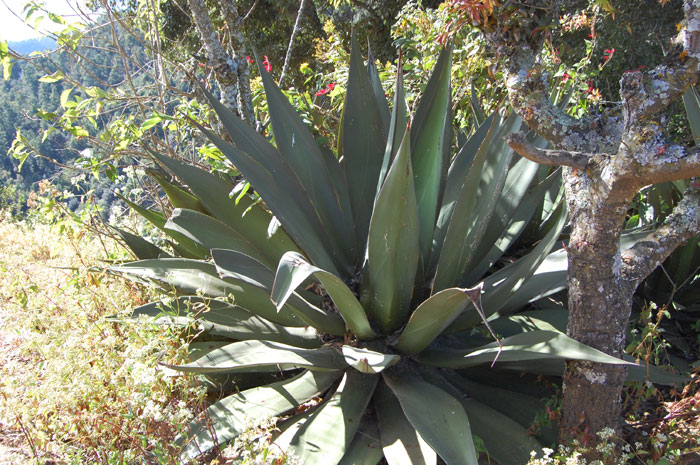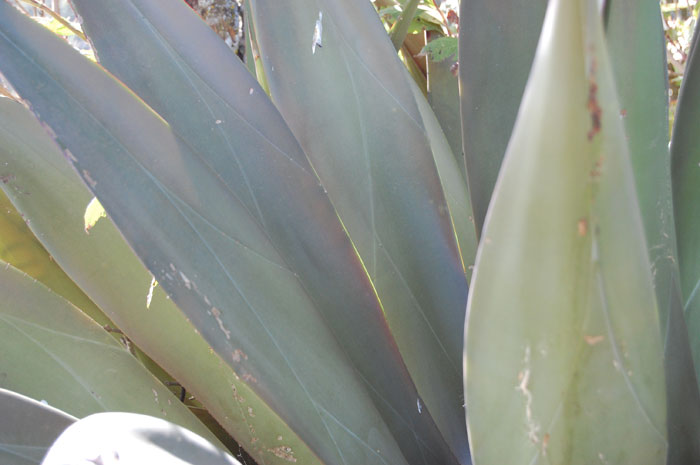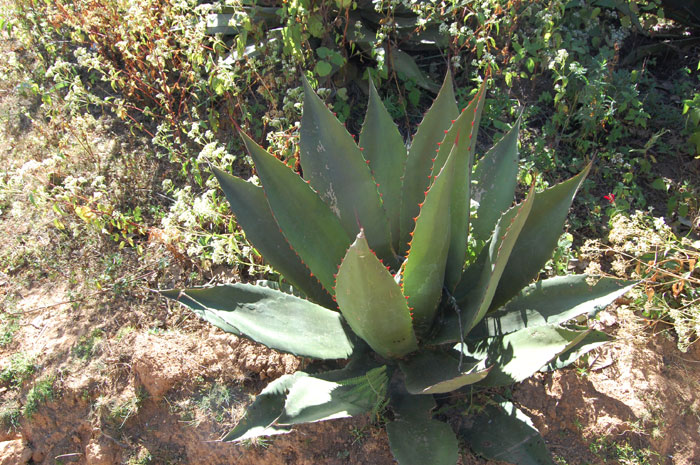 Also, that unfamiliar yucca was still with us, even at this higher altitude. Always cultivated, forming part of the mixed boundary plantings, and never apparently growing wild.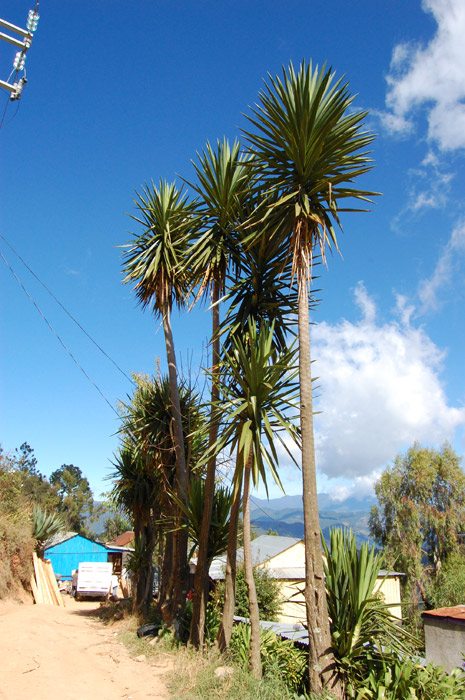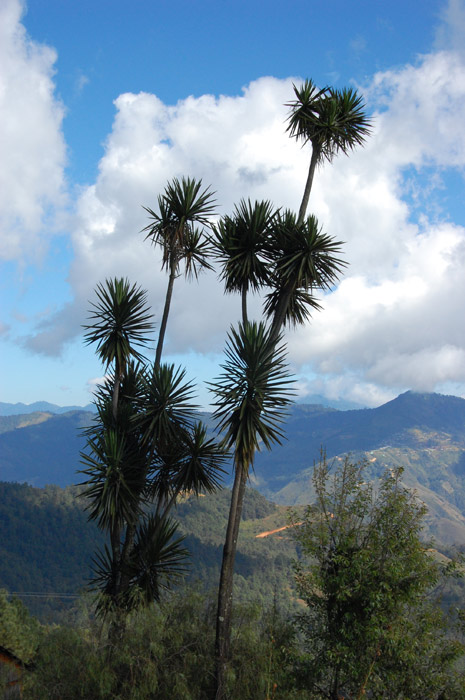 Below: an arching/drooping inflorescence - something of a marker as those of most yucca species are upright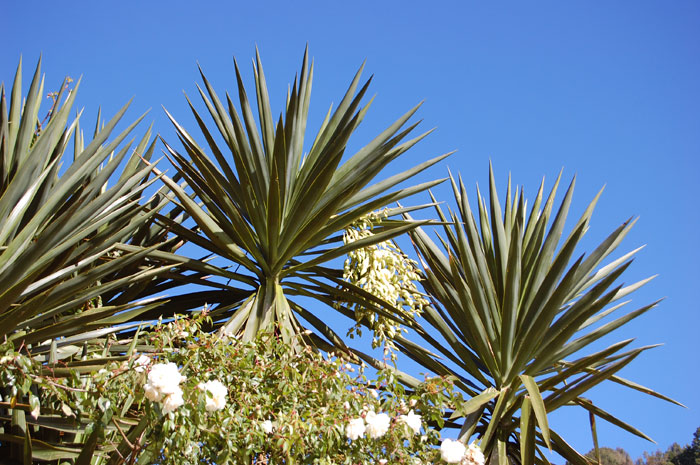 Looking slightly fatter than the lowland version, it was still recognizably the same plant but different to anything else – Yucca elephantipes, it's nearest look-alike, was also being cultivated nearby for immediate comparison. We later saw many specimens in flower – although I've included the picture here - a drooping or arching inflorescence confirming it to be something different. It remained our companion right to the highest part we travelled through at around 2700m. Subsequent research indicates it could possibly be Yucca lacandonica, a rare usually-epiphytic(!) species native to Chiapas, or something as yet undescribed. Most interesting.
Further along the road we followed a ridge for some distance at around 2650m, seeing many plants of Agave atrovirens. We stopped to again photograph several but, in the end, drove past specimens every bit as good, if not better.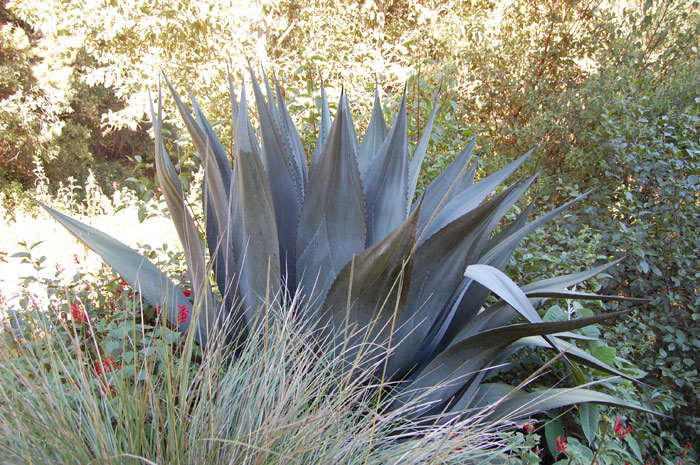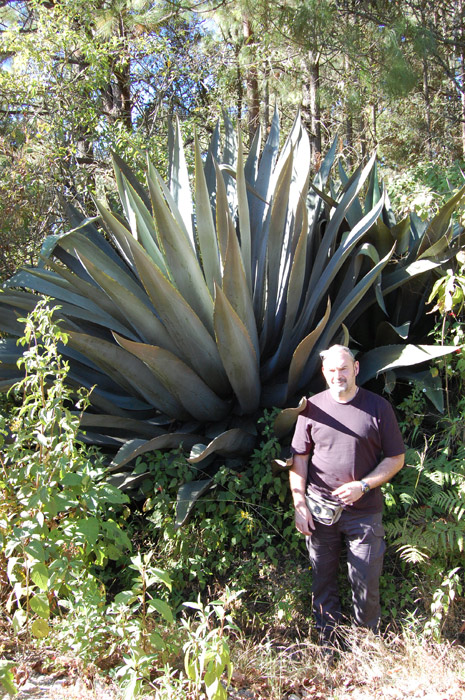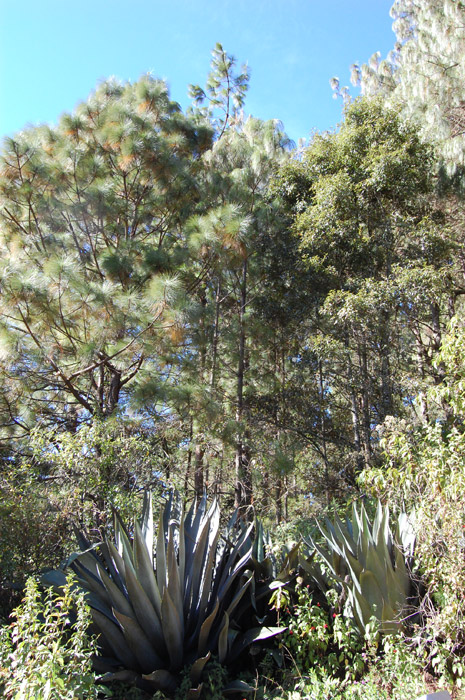 We arrived at where we intended to stay in very good time – Hotel Puerto de Sol at a tiny place at 2450m in the mountains called San Jose del Pacνfico. The accomodation was a series of log cabins set into the mountainside with open fires for heat. And the most spectacular view all the way back down the ocean across the huge vista of pine-clad mountains falling away below us. Amazing. We paid up, then because it was still early, investigated further along the road making it as far as Miahuatlan (and a handily placed Pemex, Mexico's state run petrol station) before heading back. Along the road, which descended from the almost alpine atmosphere of the mountains to the dry plain at 1600m leading eventually to Oaxaca, we saw hugely varied populations of Agave potatorum, growing on north and south sides of the road, plus a species of Nolina in amongst the scrubby vegetation above.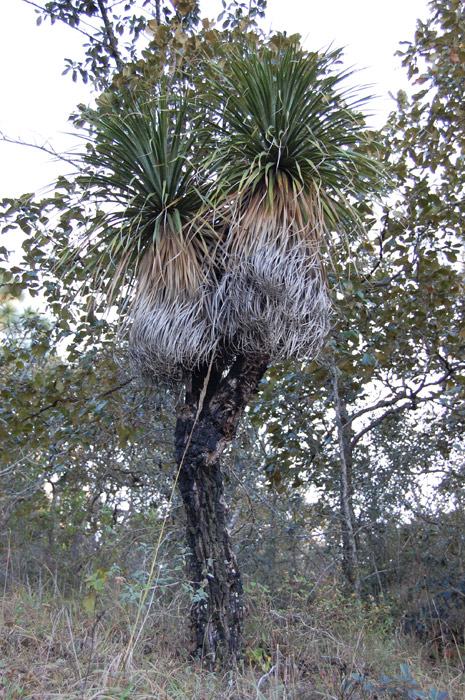 Not sure what species this is as Nolina longifolia is supposed to start some considerable distance away. Plus it was smaller and, unusllay as nolinas like this go, had a glaucous leaf reverse. These were at 2000m. On the road by the Pemex we came across many plants of the distinctive trunked Agave karwinskii masquerading, as it does, as a yucca.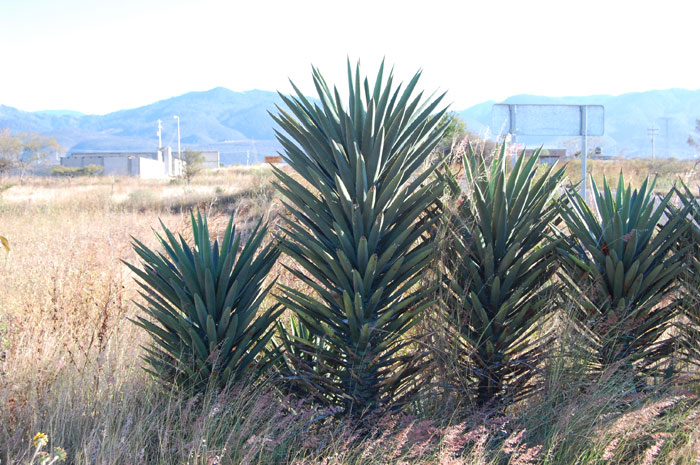 Anyway, the light was beginning to go so we headed back – arriving with enough light to see a huge Agave atrovirens immediately behind our cabin and watch the sun set dramatically behind the ocean.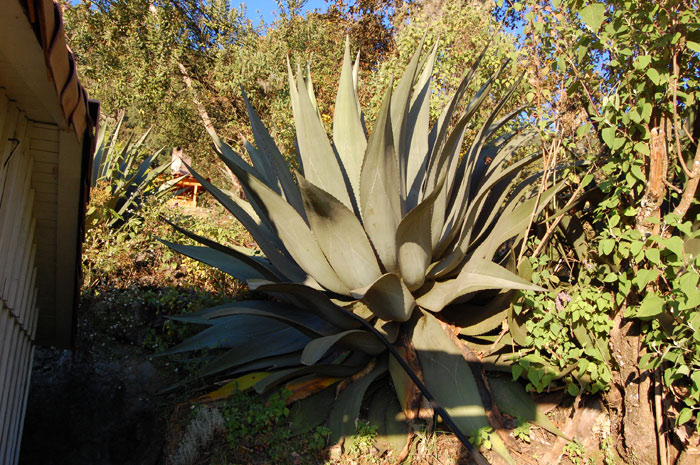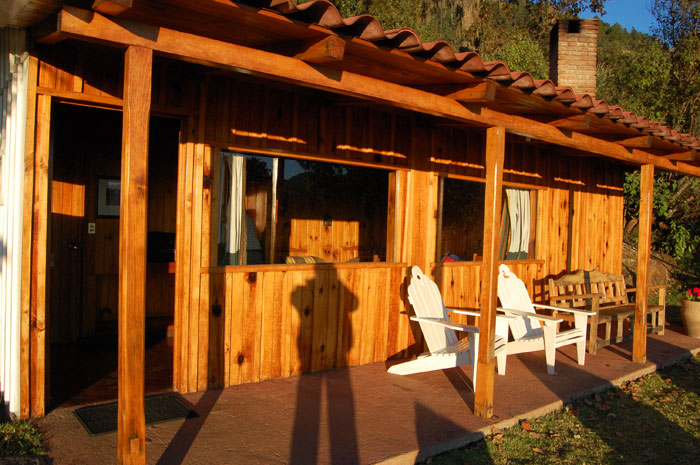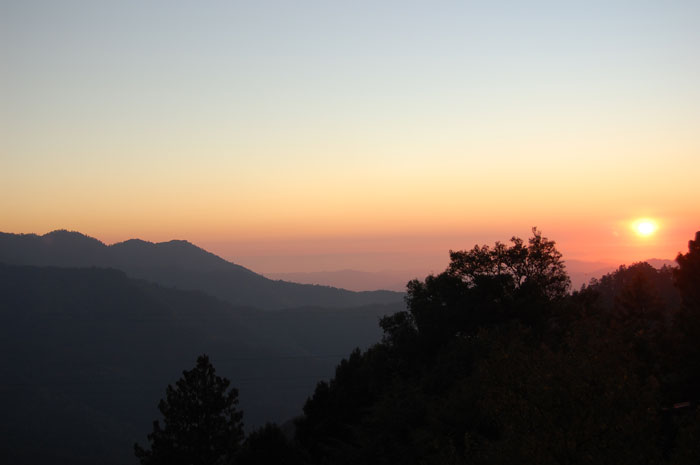 Dinner was at the modest restaurant on site, we ate well on a delicious vegetable soup followed by chorizo, frijoles, rice and salad with a pile of steaming, delicious, huge, hand made tortillas – plus 2 beers each - all for M$178.
Direct links - 25th/26th 27th 28th 29th 30th 1st 2nd 3rd 4th 5th 6th-9th