Thursday 29th
Slept ok despite dirt and dead insects but, when we went for breakfast, everywhere in town was shut so we hit the road at 7:15. The next town along, Santo Domingo Zanatepec, provided us with a venue for our excellent value breakfast – restaurant Nadxielly - and what appeared to be much cleaner accommodation next door should we return this way again – Hotel San Rafael.
We had a fair distance to travel so we drove smartly along Hwy 190, straight past the turnoff for Niltepec and the mountain road that might have led us to the type location for Beschorneria albiflora. It looked like a good half day's excursion so we left that for another trip. Then past a place named La Venta (Windy Place), home to a giant wind turbine farm (maybe 50 of them), before turning off road to try and find some agaves by following some directions in reverse. BIG mistake. I was map-reading – not one of my skills – and we wasted the entire morning, and most of the afternoon, going around in circles becoming rather over familiar with the one way system through a rather unmemorable place called El Espinal.
Finally we called it off and headed to a second location to find Agave guiengola, arriving at an easily accessible population just off the main Hwy190. The species is named after a unique limestone formation in that area known as Guiengola limestone. When dressed it is white with orange-red veins yet, in it's natural state, is weathered externally to black jagged points. Very dramatic, and the perfect setting for the plump, pale, almost white glaucous rosettes of Agave guiengola – surely one of the most beautiful of agaves. Below are some (large) pictures of this gorgeous agave plus some of the cacti (edit - Cephalocereus apicicephalium) growing in the same locale.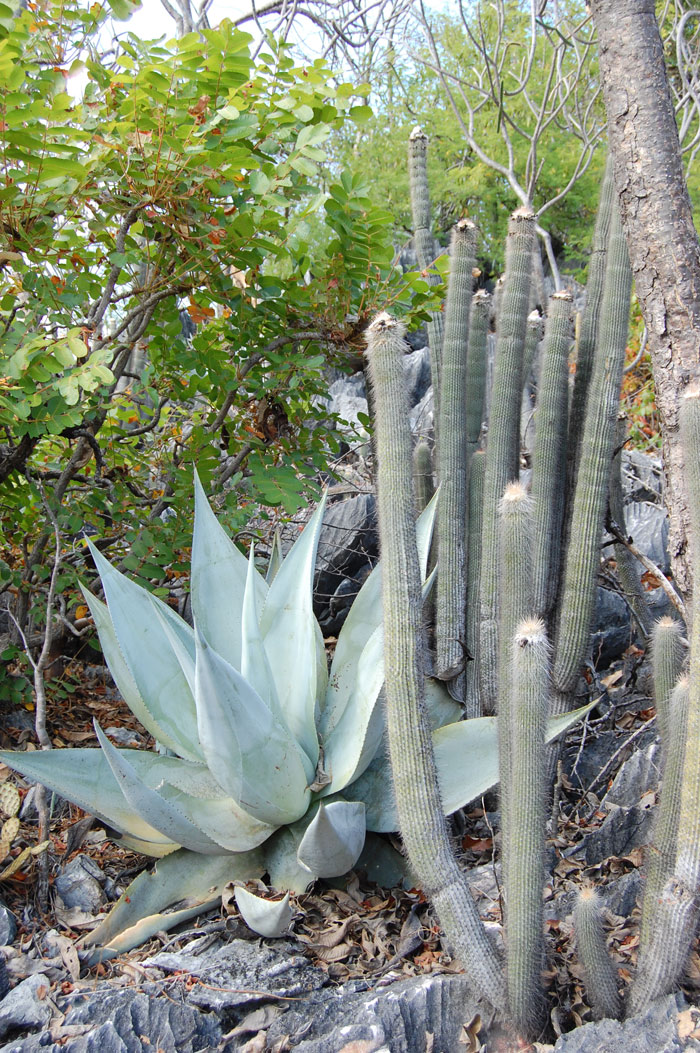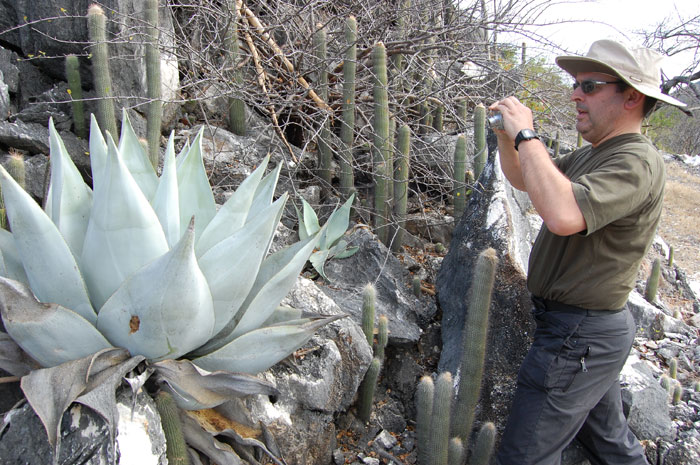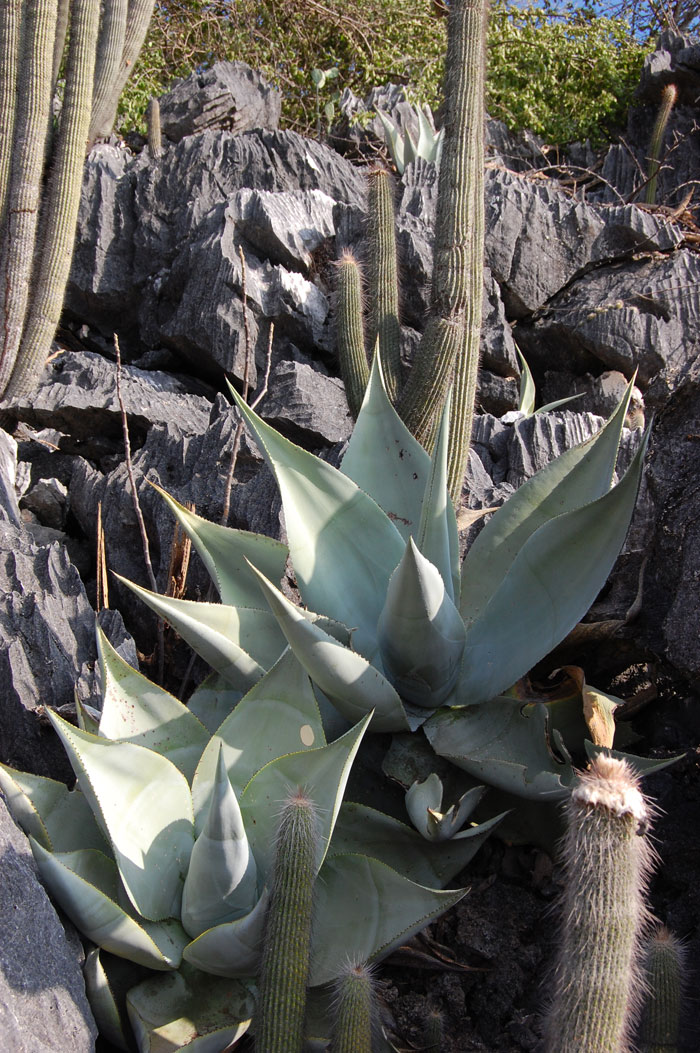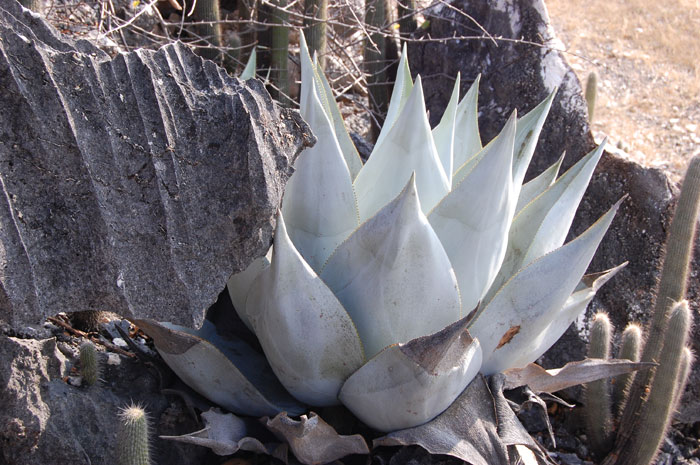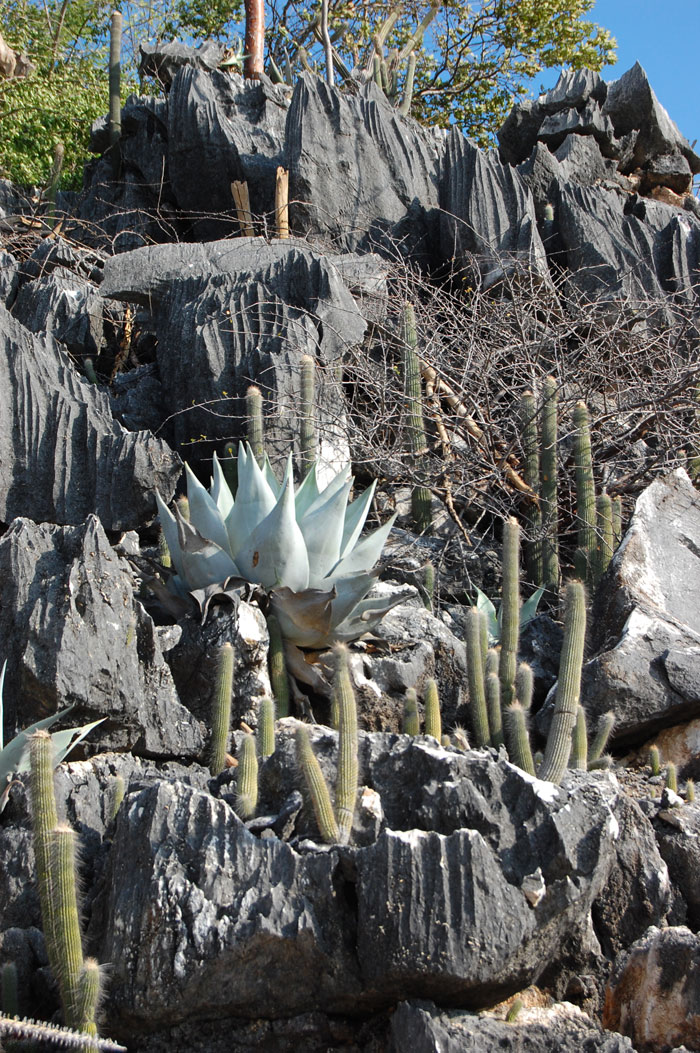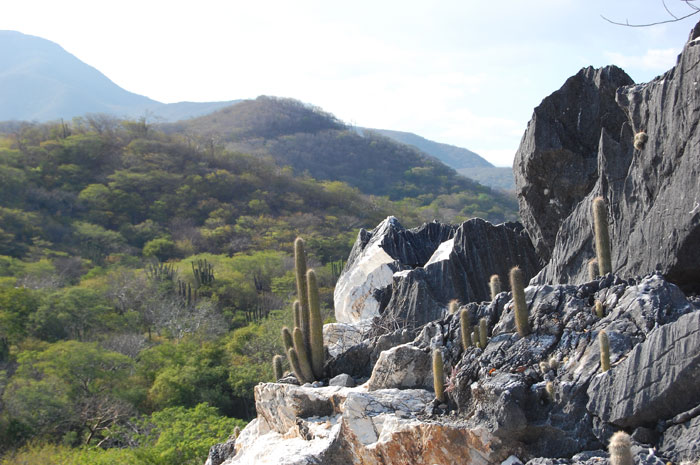 The sun was getting low and we still had some way to go so dragged ourselves away. Heading along the coast road we passed, just before a place called San Pedro Huamelula, some cliffs that were dotted with agaves – no idea what they were but time didn't allow investigation. Our aim was to head for Puerto Angél but it soon became apparent we wouldn't make it before dark. We turned off to the Bahías de Huatulco and a small town not quite on the coast called La Crucecita, choosing to stay at Hotel Misión de los Arcos.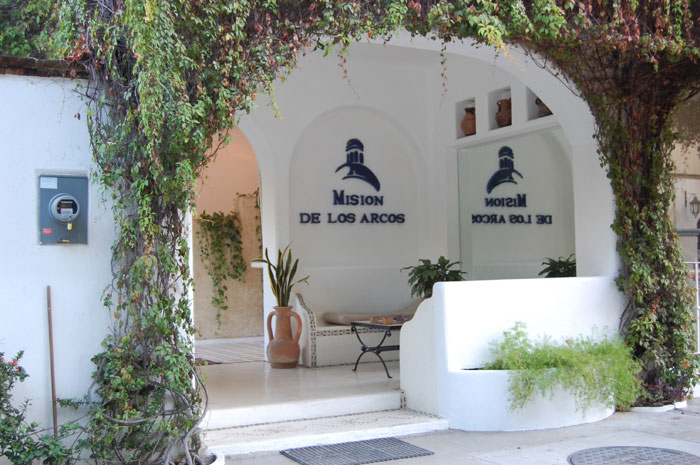 What an amazing hotel! M$450 for a top quality modern place with it's own fantastic restaurant. What with seeing the Agave guiengola and then the marvellous hotel we really finished a miserable day or so on a high.
Direct links - 25th/26th 27th 28th 29th 30th 1st 2nd 3rd 4th 5th 6th-9th