Adventures in Mexico part VIII
28th/29th October 2016
Planning this trip was very exciting.  It would be my 8th time in Mexico but the first time I had planned to be there for the Day of the Dead celebrations, one of the world's most vibrant cultural events.  And in the city of Oaxaca, too – the finest city I have ever visited.  Four of us going on the trip – Neil Armstrong, Phil Young, Mark Fillan and I – all Mexico veterans of several trips so we all knew the ropes.  Mark had some very specific aims and planned most of the detail for the itinerary, the rest of us were largely going along for the ride.
Two weeks before we set off Mark hit us with the sad news that he reluctantly had to pull out of the trip due, mainly, to a leg injury.  A slight set back, especially as he does most of the driving, but nothing serious.  We decided to stick with Mark's original itinerary just to see what we could see.
So it was that the three of us found ourselves leaving Heathrow T4 on a Boeing 787 Dreamliner headed overnight for Mexico City.  Then – something new for us – a connecting flight to Oaxaca.  In theory this would get us where we needed to be much quicker and avoid the hassle of getting out of Mexico City.  In reality it worked absolutely perfectly – except that my luggage didn't make the trip between Mexico City, where I had last seen it, and Oaxaca.  'Not a problem', said the officials, 'we will get it to your hotel by 6pm tonight'.  Then on to the hire car desk, Europcar.  The Jeep I had booked wasn't available until later that afternoon, apparently, so we had to make do with a Vauxhall Vectra until then.  Again, not a problem.  But, those things aside, it was a really great way to travel.  Oaxaca airport is small but spacious - no queues at security, no long wait at baggage reclaim (assuming you have any, of course) and it was just an easy 20 mins drive through light traffic to central Oaxaca.
We got into downtown Oaxaca just about in time to have lunch on the zocalo (at Primavera – huevos a la Mexicana - not bad, but not great) and remind ourselves just why we loved going to Oaxaca.  Everywhere was decorated for the celebrations and we just wandered around soaking it all in.
   <![if !vml]>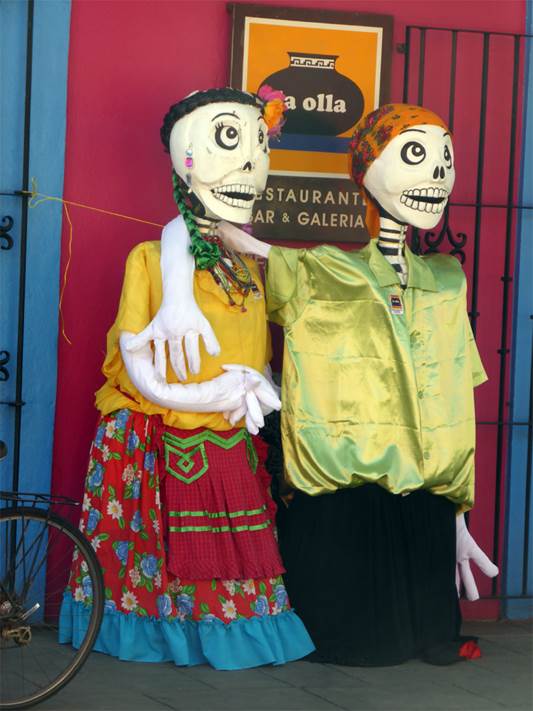 <![endif]>   <![if !vml]>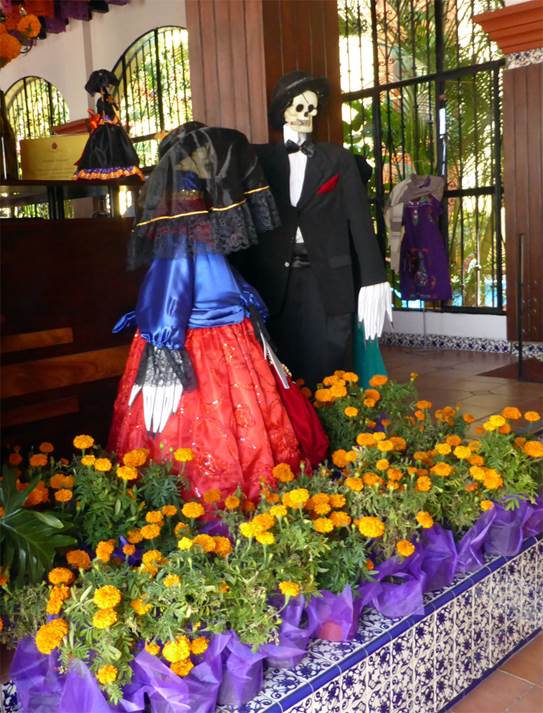 <![endif]>
<![if !vml]>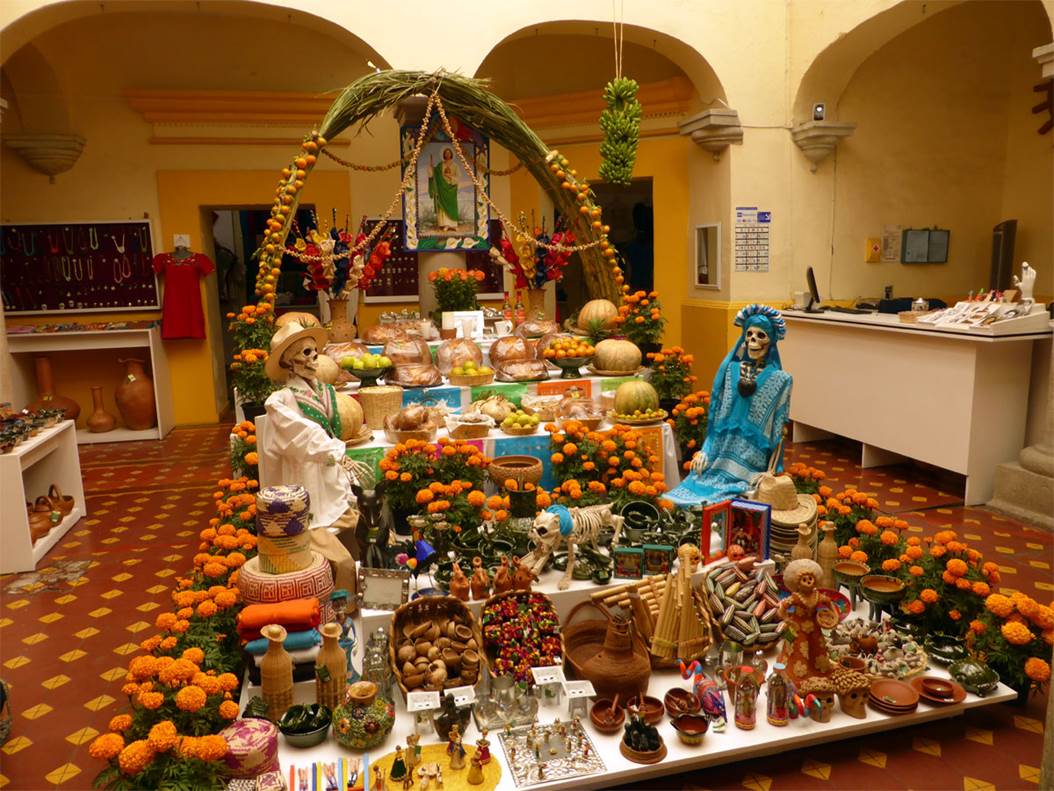 <![endif]>
We checked into our hotel – Hotel Trebol.  It came recommended to me by an American friend of mine who had stayed there just a couple of months previously.  And what a great recommendation!  Lovely old colonial building, sympathetically modernised to a high standard, right next to the main market and a 3 minute walk to the zocalo.  Rooms were amazing – spacious, loads of hot water – and surprisingly quiet given its central location.  A buffet breakfast was included in the price plus – a huge bonus – free secure parking just a couple of blocks walk away.  The side roads in the old city centre are rammed.  Also, not a big issue, but the reception staff spoke really good English, which took the pressure of my rather limited Spanish.  Here is the main staircase to the upper rooms and the interior courtyard.
 <![if !vml]>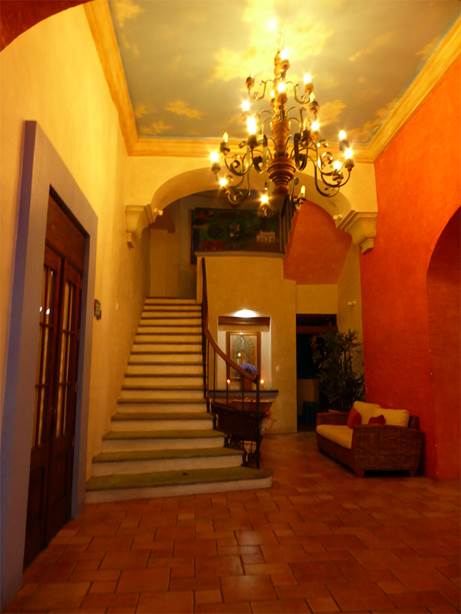 <![endif]>  <![if !vml]>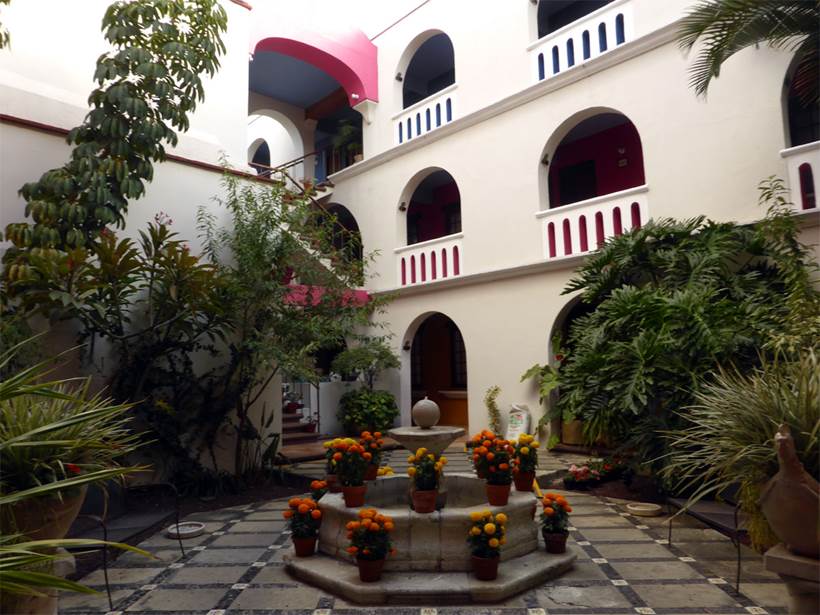 <![endif]>
   Returning to the hotel to freshen up before dinner, we were just in time to see the arrival of our new hire car – not the Jeep Patriot I had reserved but a swanky brand new Mercedes SUV.  Not 4WD but good ground clearance, chunky tyres and plenty of room inside for the 3 of us.  It was double parked outside causing all kinds of traffic chaos so we did a cursory swap over, a little paperwork and then parked it in the off-site parking.  A little later, my luggage arrived!  Great news. Then we hit the town again and joined the rest of the revellers.  Dinner at Terranova, right on the zocalo – sopa azteca followed by pollo con mole negro.  Very nice!  It was great to be back in this marvellous city!
Start page  :  28th/29th  :  30th  :  31st  : 1st :  2nd  :  3rd  :  4th/5th  :  6th  :  7th  :  8th /9th  :  10th /11th /12th