Thursday 4th/ Friday 5th March
Awake early and watched the sunrise from behind the headland opposite our balcony. We both got up early, had a quick swim whilst the fishermen and pelicans went about their business, then head off again, travelling along the coast road hwy200 We stopped at Zipolite for breakfast then again at San Agustinillo, pictured below - an unfeasibly beautiful piece of coastland.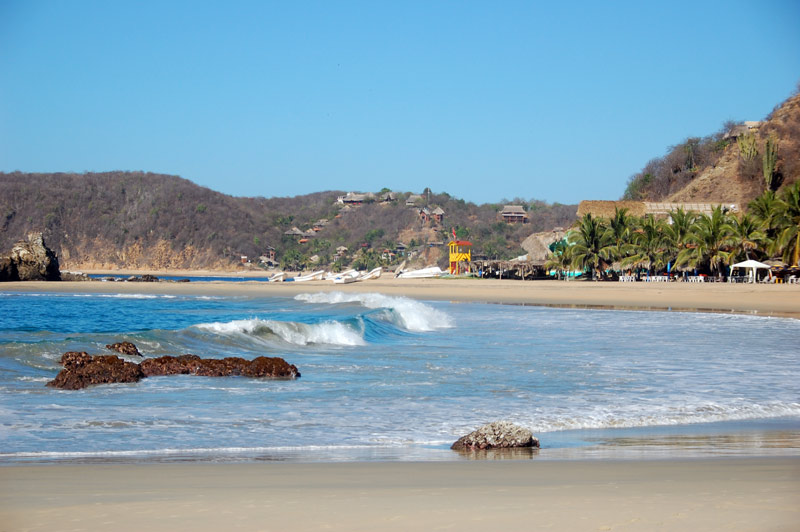 A bit further along, past Puerto Escondido, took a quick stop to take some pics of these Sabal palms which, together with Attaleas, were the most numerous palm along this stretch of coast. Interesting rock formations at one point - gigantic water-worn boulders.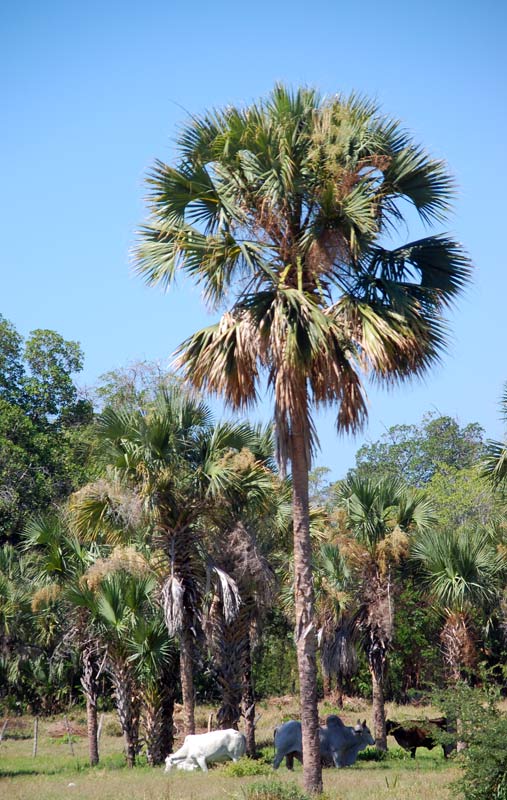 Then it was more driving - not very inspiring, lots of small villages, speed bumps and trucks - we carried along hwy200 until Santiago Pinotepa Nacional, then headed north toward Putla - and the mountains - again. Putla was busy and noisy but we found a small, clean and cheap place to stay - Hotel Beyafrey (220 pesos) with courtyard parking and aircon. And, making the stay worthwhile, an exceptionally good restaurant - Tito's - where I enjoyed beef and chicken served with mixed peppers and onions on a red hot cast iron sizzler. Delicious.
Friday 5th March
Decided to wait until 8am for the hotel restaurant to open for breakfast, as per the sign, only to discover that it was going to be 9am that morning so we hit the road and headed for the mountains, stopping at a small comedor on the roadside from some rather tasty eggs a bit later. We stopped to admire the scenery ...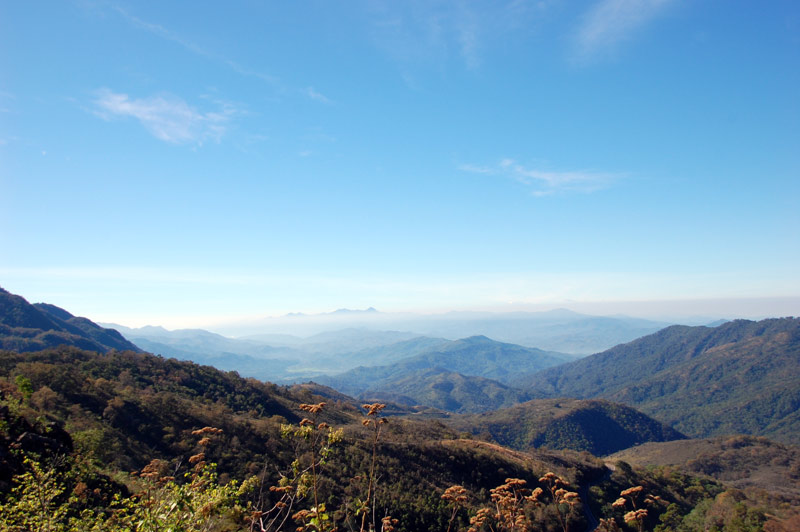 ... and this rock face covered in Agave ghiesbreghtii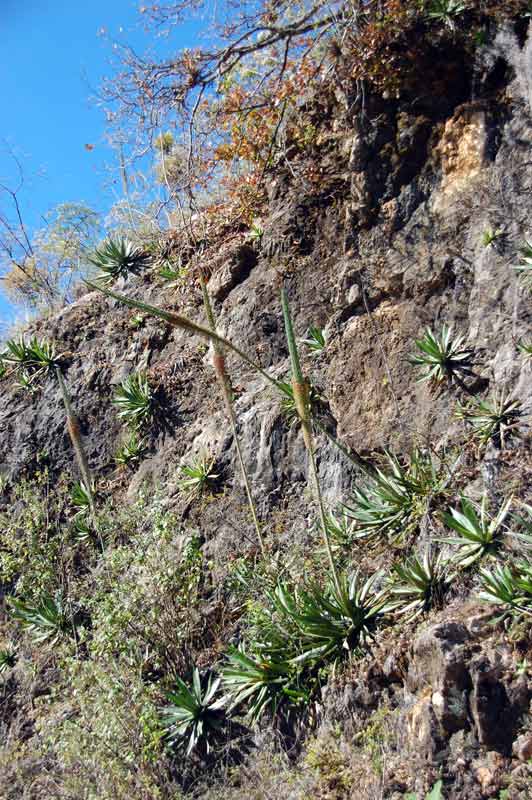 We decided to investigate a few side roads, and down one I spotted some dasylirions so we stopped for a look. And I am glad I did. There are 'supposed' to be two species of Dasylrion in Oaxaca - D. serratifolium and D. lucidum. Both are large, trunk forming species that don't offset much around the base. this one is small and clustering. Another new species?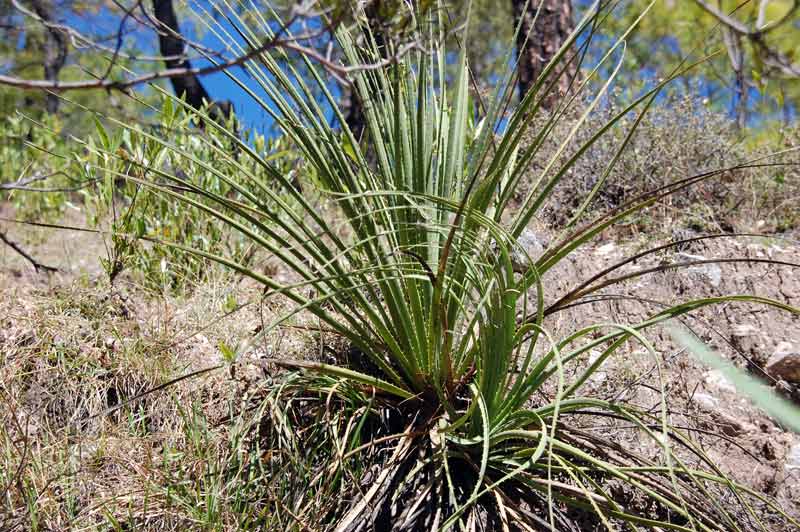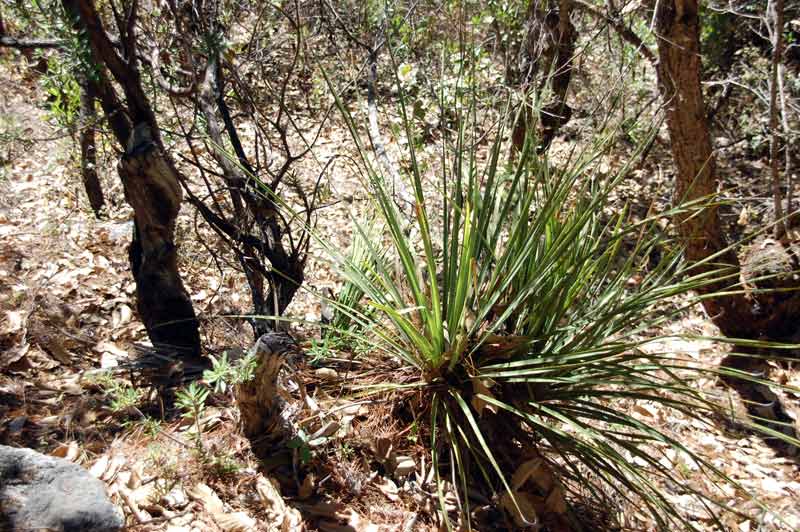 And a little further down the road we saw another nolina., which could be N. longifolia, I don't know. There were just a few around, not very large.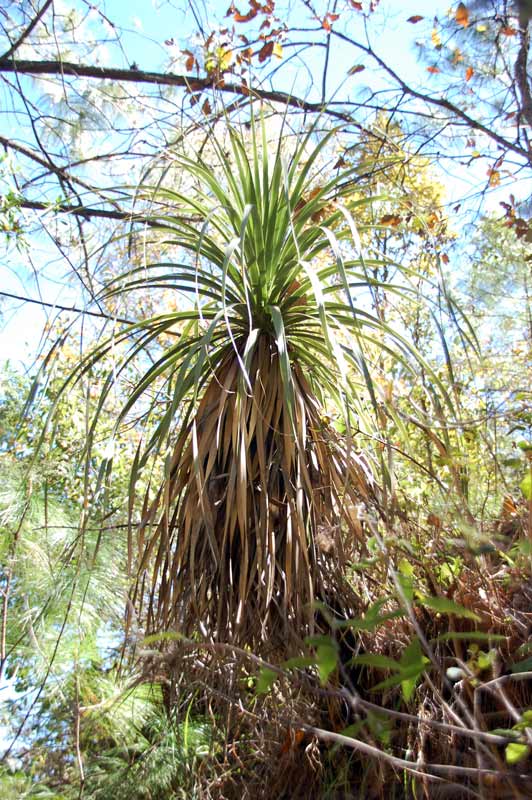 Further along there was this interesting looking rock outcrop with Agave atrovirens studded through it - we got out and had a wander around for a while.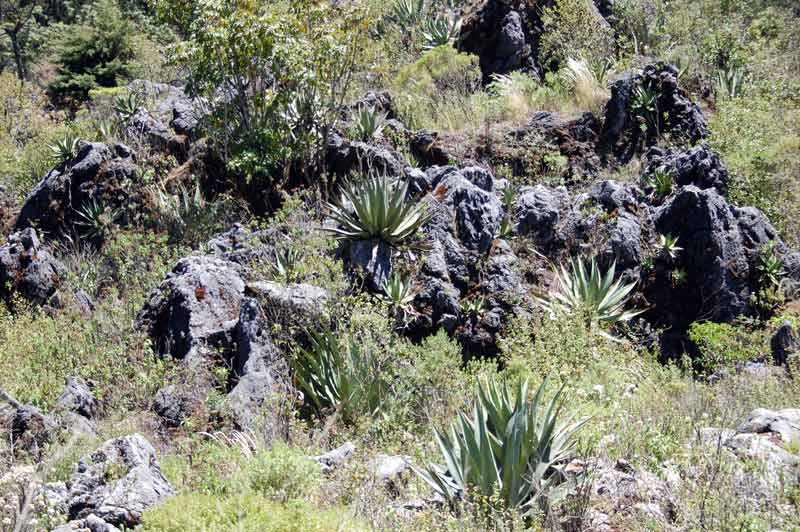 Interesting rhus-y looking shrub there, too.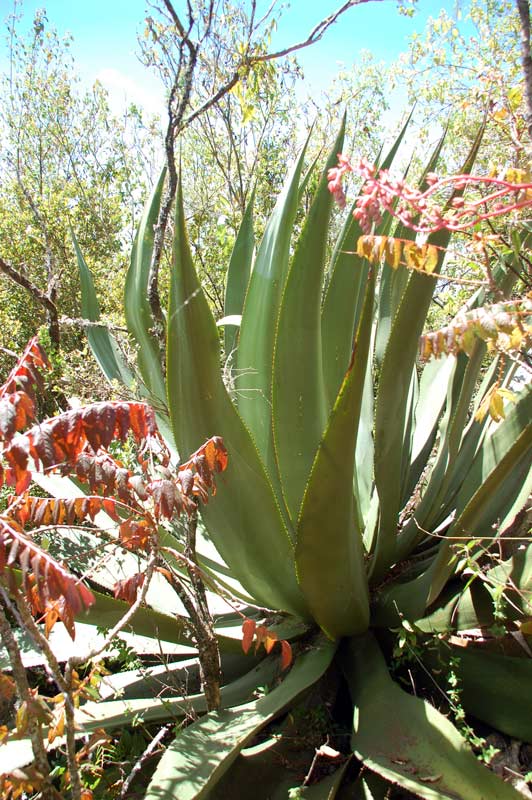 and a budleja, possibly?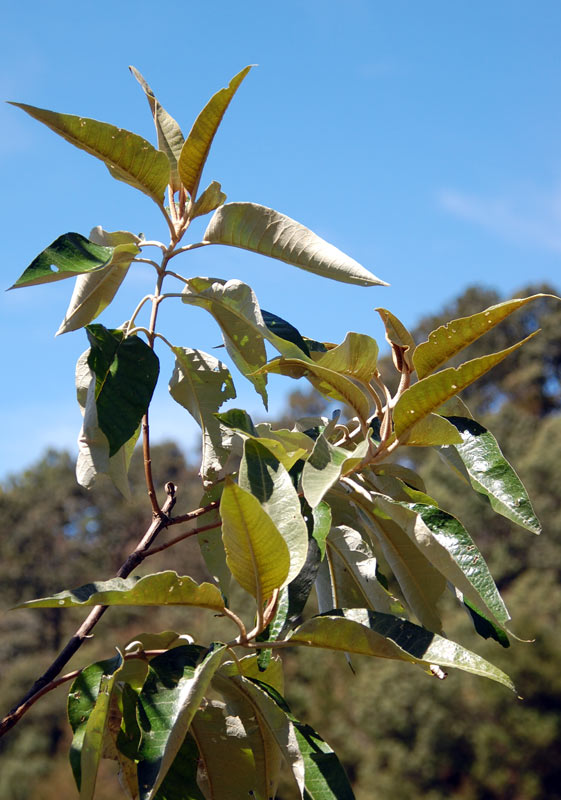 Then I saw this. I wasn't sure what I was looking at but had some suspicions that were confirmed when we got back to the car. I looked in my 'Gentry' agave reference book and - yes, Agave ellemeetiana, which the book said wasn't known in habitat. I got extremely excited. However a few enquiries upon returning home revealed that this was actually quite well known now from here and called Agave ellemeetiana, Oaxaca form. Oh well.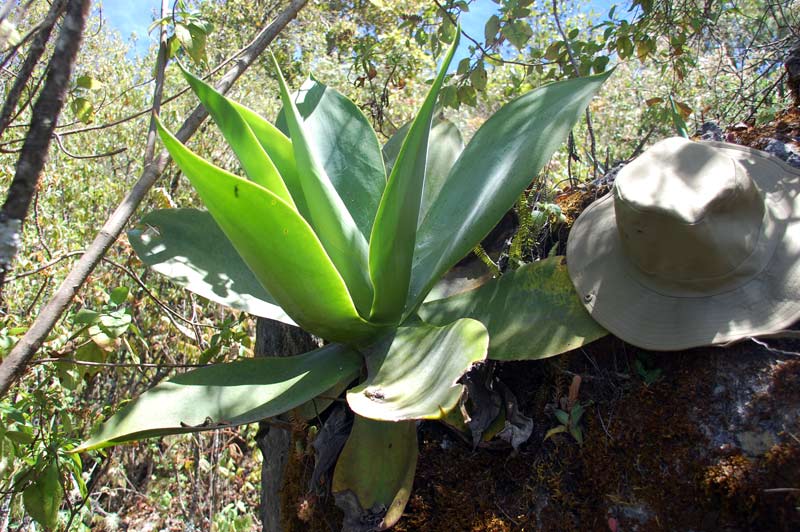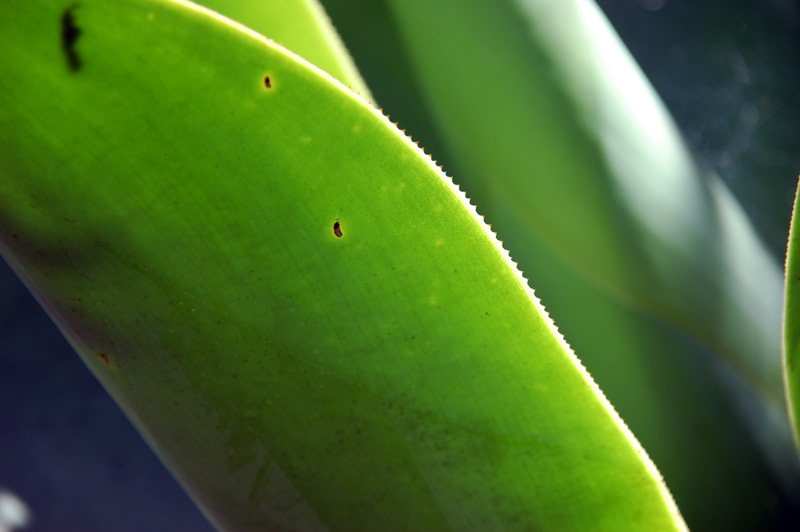 Below, a large growing echeveria, probably E. gibbiflora, was dotted here and there.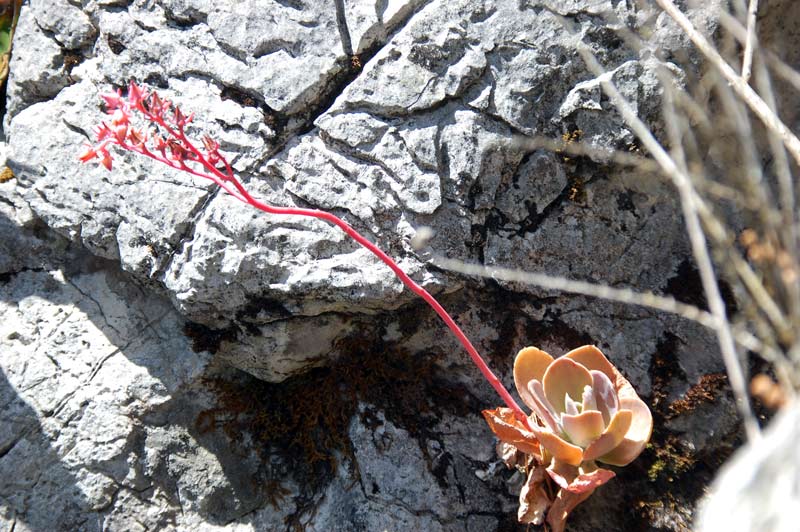 We left this spot and continued - stopping again and a wooded area on the bend of a road where a small stream had bisected the land. We struggled about through the undergrowth and then were stunned when we came across a massive fallen schefflera, The trunk must have been 2ft across and 35-40ft long. Huge compound leaves on vigorous growth that was springing from the horizontal trunk. Really impressive plant, and at almost exactly 3000, altitude it would certainly have to be quite hardy. Unfortunately there was no trace of seed. And unfortunately my camera decided to do odd things, so this is the best I can manage to Photoshop the image to normal.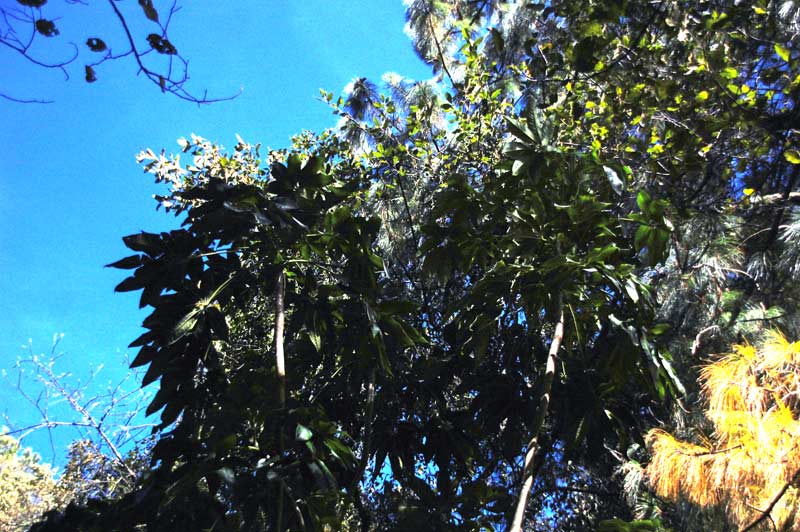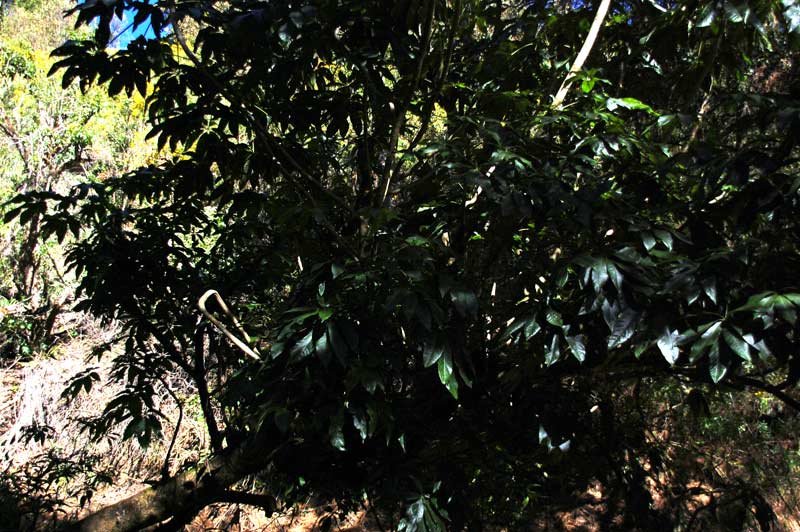 We had intended to make our way to the mountain market town of Tlaxiaco for our overnight stop but time was getting short so we decided to stop over at the even smaller Chacaltongo, in fact reaching there as the light faded completely. Found a place to stay - Hotel Laso (240 pesos), clean enough but no toilet seats. Little choice of dining opportunities, we made do with a pizza which was frankly pretty disgusting.
Intro 27th 28th 1st 2nd 3rd 4th/5th 6th 7th/8th 9th 10th 11th